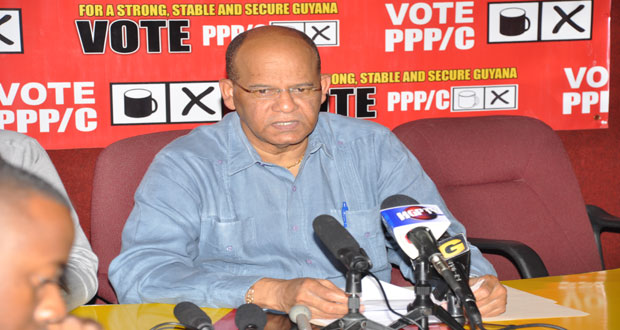 GENERAL Secretary of the governing People's Progressive Party (PPP), Mr Clement Rohee, is plugging for removal of the names of the Disciplined Services professionals from the Official List of Electors (OLE) onto a separate list. He reasons that inclusion of those names on the OLE created confusion at the last General and Regional Election in 2011, and there is a possibility of a repeat of the same confusion."The (PPP/C) Party insists that the names of Disciplined Services members should not be included on the OLE for E-Day, but rather (be) on a separate list prepared for D-Day, which is usually a week before," Rohee said during the party's weekly press briefing at Freedom House yesterday.
"The PPP had raised its concerns in 2011 with regards to the names of the Disciplined Services being on the OLE used on E-Day," he said.
However, Rohee did not detail specifically what those concerns were.
Meanwhile, Chairman of the Guyana Elections Commission (GECOM), Dr Steve Surujbally, noted that those concerns ought to be communicated in writing to the Commission for them to be addressed.
"Write us and tell us what the problem is," he appealed.
Currently, copies of the Revised List of Electors (RLE), a list modified using the Preliminary List of Electors, are posted at locations across Guyana for perusal by stakeholders in the electoral process.
Dr. Surujbally has reiterated that the Commission has a "menu of measures" to ensure the integrity of the electoral process, particularly to ensure that no one person votes more than once.
The OLE, including the names of 570,786 eligible voters, will remain in public view for 21 days, as is the statutory requirement, during which members of the Guyanese public and eligible voters are invited to review the list to ensure their details are correct.
Any inaccuracies can be communicated to the Commission, and Chief Elections Officer (CEO) Mr. Keith Lowenfield has the authority to make corrections.
Once that review period comes to an end, the CEO is then expected to certify the RLE, and from this produce the Official List of Electors which would facilitate voting at the upcoming May 11 General and Regional Elections.
The Official List of Electors is expected to be available after April 12. (Vanessa Narine)