THE woman whose headless and limbless body was discovered on the Annandale/ Buxton foreshore last Thursday has been identified as that of Samantha Benjamin, a Buxtonian who travels frequently to the United States.Meanwhile a male has been taken into custody as he was identified as the person with whom the woman lived. And according to persons in the area, on Wednesday last, they had heard continuous loud music for about two hours late into the night, and what sounded like the screams of a woman.Samantha Benjamin is said to be a clothes vendor of the Vendors Arcade in Georgetown.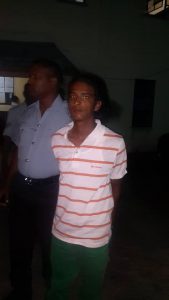 One close friend who was at the scene when the police arrived last evening spoke with this publication. He identified himself as Dexter Philander. According to Philander, the woman has a daughter who is in her teens.
He told this newspaper that Samantha has been in Guyana since December, but when she is in the United States, he would stay at her home with her husband. According to him, the last time he saw her was three weeks ago and calls to her mobile number has been going unanswered ever since.
Meanwhile one relative of the woman, who also lives in Buxton, told the Chronicle that the immediate and extended relatives of the woman were not aware that she was in the country. The relative also indicated that she might have also recently bought a vehicle but those details are yet to be confirmed by other close family members.
Residents in the area described the suspect as one who would usually ride a very old motorcycle up and down the village, play football with the males in the community, and smoke marijuana.
According to the residents, after the body was discovered, they noticed the young man keeping to himself. They also related to the Chronicle that on Saturday, two women came into the village and took away a pink suitcase from Samantha's home.
Last evening, at the Vigilance Police Station, the suspect was escorted from the lock-ups there to another location, under heavy police guard and shackled in handcuffs.
It is believed that the man is from Essequibo and not a Buxtonian.
Last week the police were called to the seashore in the area to investigate the remains of a female whose head, legs and hands were missing.