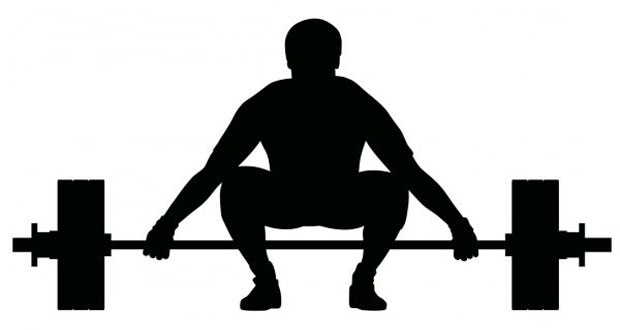 Today perhaps puts a tick in the history column for sports in Guyana. It will be the day when the first set of local athletes, with a hint of international flavour, competes in the E-Networks Cross-Fit games.Nine teams in total, 36 athletes among them nine women, competing for the titles of the Fittest Team and the Fittest Male and Female from 10:00hrs. But with the recent rains, athletes and the organisers and sponsors alike are hoping for either a day of glorious sunshine or even if it's overcast – no rain.
Chronicle Sport caught up with co-organiser and owner of Fitness Express, Jaime McDonald, on the National Park Tarmac where the action will be.
"We're going to have a few brushes to ensure water does not pool on the tarmac.
"It's not supposed to rain horribly (today) but I don't know I really don't know. Last time I checked the forecast it was supposed to rain and it was sunny the whole day.
"If it's a drizzle drizzle sort a thing we have things in place to wipe the equipment and try to have everything run as smooth as possible; if it's torrential rain then we have to call everything off and that's based on what our sponsors have told us because they wanna make sure it happens the right way."
There will be five events. The teams compete in four events from which the fittest team will be decided. The fittest male and female athletes will be determined in Event Number 5. McDonald said it's the surprise event and will only be revealed when the athletes show up for competition.
The top nine males and top three females will be chosen based on their performances during the team event.
This is what competitors will have to do once the whistle goes:
Event 1 – deadlift (225lbs) and over the bar burpees for three rounds of 21-15-9 reps.
Event 2 – 200m suicides, 21 kettle-bell swings and 12 pull-ups for three 3 rounds
Event 3 – dubbed 'Triple-5-0' – 50 box jumps (24" for males & 20" for women), 50 thrusters (45lbs for women & 65lbs for men) and 50 toes-to-bar swings for the men. Ladies do 60 GHD/Roman chair sit-ups.
Event four will be a 1500m run on the outer track of the National Park, ending on the tarmac. It's just 100m shy off a mile.
Each event has a time limit due to the number of persons involved
"We're going to be giving time caps 15 minute time cap for the first event, 20 for the 2nd and 20 for the third and 15minutes for the 4th,' noted McDonald.
On Saturday, a 30-foot rig was erected on the tarmac. It will hold nine athletes at a time and will be used for the pull-up and toes-to-bar events.
Entrance to the event that has been supported by Axe Apparel, Copa Airlines and the Trophy Stall, among others, is $500.
By Leeron Brumell