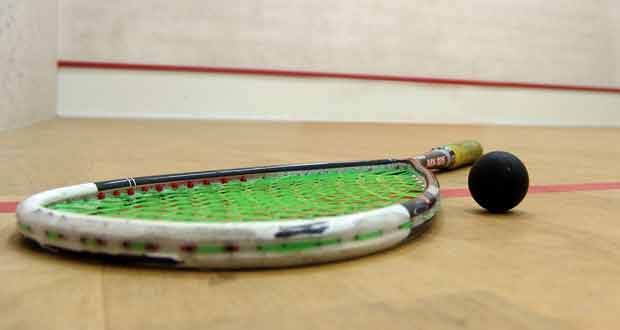 SUNIL Seth, Alex Arjoon and Nicolette Fernandes are all confirmed to represent the Golden Arrowhead at the 2015 Toronto Pan American Games and there is still one place open on the men's team.
In an exclusive interview with Chronicle Sport, Guyana Squash Association president David Fernandes disclosed that the three above-named players have been confirmed to represent Guyana at the Toronto, Canada Games in July and there is still one place open for another male player to complete the team.
According to Fernandes, Canada-based player Richard Chin, who was mainly responsible for Guyana qualifying for the Games, is out due to an Achilles tendon injury he sustained recently and is now recovering.
Fernandes, however, said the door is wide open for another budding player to take Chin's place on the team.
Asked if he has any player in mind, Fernandes, a former national hockey player, answered in the negative, but was quick to say the GSA's selection committee will decide on that.
He nevertheless said Nyron Joseph, Jason Ray Khalil, Kristian Jeffrey or Regan Pollard can fill the void created by Chin.
Seth is Guyana's number one men's player who defeated Colombia's Andres Herra 3-1 at the Central American and Caribbean Games in Vera Cruz, Mexico last November.
In the doubles event at that Games, Seth teamed up with Khalil in the Men's doubles, where they had to play the team of Julian Jervis and Alex Frazer of the Cayman Islands but unfortunately they were beaten in straight games.
Meanwhile, the annual Bounty Farm-sponsored Mash Handicap tournament will serve off on March 2 at the Georgetown Club courts and Fernandes stated that the GSA will stage at least six local tournaments this year and will be sending representative teams to several regional and international tournaments.
Among them are the junior and senior Caribbean Area Squash Association, the World Junior Championships in Egypt and the Canadian and U.S. Junior Open tournaments.
Fernandes disclosed that the GSA has already selected its Girls team for the Junior World Championships in Egypt during the month of July.
The team comprises Akeila and Laressa Wiltshire, Gabby Fraser and Taylor Fernandes.
By Michael DaSilva