WITH General and Regional Elections in Guyana slated for May 11th, 2015, which would have resulted in a clash with a few Caribbean Secondary Examination Certificate (CSEC) and Caribbean Advanced Proficiency Examination (CAPE) examinations, Minister of Education Priya Manickchand yesterday announced that new dates for the sitting of these examinations were approved by the Caribbean Examinations Council (CXC) following a series of consultations.The minister's disclosure was made at a press conference held at the National Centre for Education Research and Development (NCERD), where she was where she was joined by the Registrar of CXC Mr Glenroy Cumberbatch and senior Education officers. She informedthat the new dates for the examinations which should have been written on May 11th and 12th, 2015, are now scheduled to be written on June 15th and 16th, 2015, respectively.
According to the Education Minister, this decision was made following a series of consultations where possible options were explored, discussed and considered before the decision was taken to reschedule the examinations.
BEST INTEREST OF CANDIDATES
She explained that at all times during the discussions and deliberations, the Ministry's paramount consideration was the best interest of the candidates. She said the Ministry of Education is "always keen to ensure that examinations are conducted in a smooth and effective manner" through consultations with the CXC and other stakeholders.
MATURE & CIVILIZED
On the issue of General Elections being hosted on the same day the exams were scheduled, Minister Manickchand said her ministry was not "overly concerned" about security related issues as it is expected that the Guyanese public will maintain "mature and civilised" behaviour in the execution of this very necessary democratic right which entails choosing a government for our country.
She said, however, that their major concern was "how to use the place of polls to conduct exams under exam condition at the same time as voting would take place." As such, the decision was taken to reschedule the CSEC and CAPE exams so as not to in any way disadvantage the students.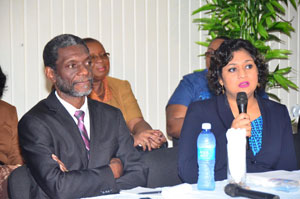 CXC's Registrar Glenroy Cummerbatch also added to the discussion, stressing that "the principal concern was to ensure that these candidates who registered to write CSEC and CAPE, had the opportunity to write them in the conditions that they would normally write day-to-day."
He explained that if schools were to be used as polling stations on the same day, it would mean that the two activities would have been competing. Therefore, it was necessary to ensure that the candidates are not disadvantaged in anyway, he said.
The second consideration, according to Cumberbatch, was the integrity of the paper getting to and from the examination centers.
WRITING 'PARALLEL PAPER'
In light of the issue of regional integration and the possibility of information on the exam papers reaching to Guyana because of the rescheduling, Cumberbatch disclosed that a substitute paper which is referred to as a "parallel paper" will be written by the Guyanese candidates.
According to him, these parallel papers will not reflect the same questions, wordings and numbers as that of the initial paper, but will be parallel in terms of difficulty, context and demand. "We always have what we call backup papers so if something goes amiss there would be additional papers waiting that we can use," Cummerbatch said.
NO DELAY IN RESULTS
The Education Minister also assured the media that despite the fact Guyanese candidates will be sitting the exams at a later date, their results will be available on time with the rest of the region.
"CXC will mark all scripts and issue results at the same time the CXC/CAPE results were originally scheduled to be delivered. CXC will officially inform the candidates about this change in timetable. The Ministry of Education shall also take all necessary steps to ensure each and every candidate is informed of the timetable change," Manickchand told reporters yesterday.
NO OTHER DATES AVAILABLE
In answer to a question as to why it was that the Minister did not advise the President to fix a different date for the election, the Minister said that while it was the President who is entitled and duty-bound to name a date, he actually has to do that in consultation with the constitutionally appointed body that is responsible for conducting elections, the Guyana Elections Commission (GECOM), and that as far as she is aware and has been advised, all the dates given by GECOM as being appropriate fell within the examination time that had been set and timetabled by CXC.
CSEC exams scheduled for June 15 include at 9:00am: Agricultural Science (double award) – Paper 2, Agricultural Science (Single award) – Paper 2, Theatre Arts – Paper 1; and at 1:00pm: Electrical and Electronic Technology – Paper 1 and Food and Nutrition – Paper 2.
CAPE exams scheduled for the same day include at 9:00am: Geometrical and Mechanical Engineering Drawing Unit 1 – Paper 2, History Unit 1 – Paper 2 and Art and Design Unit 1 and 2 – Paper 2 and 3; and at 1:00pm: Communications Studies – Paper -2 .
CSEC exams scheduled for June 16 include at 9:00am: Home Economics: Management – Paper 2, and Technical Drawing – Paper 2; and at 1:00pm: Electrical and Electronic Technology – Paper 2. CAPE exams scheduled for the same day include at 9:00am: French Unit 2 – Paper 2 and Environmental Science Unit 2 – Paper 2; and at 1:00pm: Pure Mathematics Unit 1 – Paper 2 and Agricultural Science Unit 2 – Paper 2.