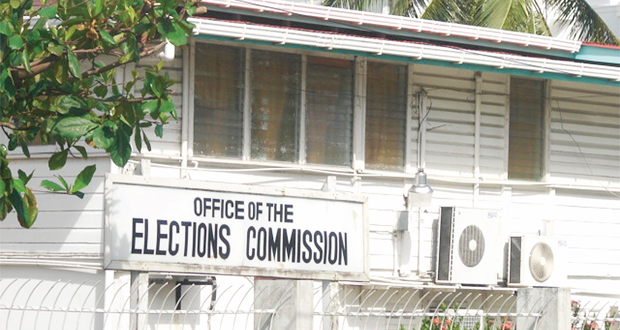 THE Guyana Elections Commission (GECOM) will roll out its 7th cycle of continuous registration today.And persons will be allowed to register for the first time, conduct transfers and make changes to their registration details.
At the end of the sixth cycle of continuous registration, in the latter part of June, there were registrations of some 14,981 new persons, 14,942 of whom have already been verified. There were also 2,004 transfers, owing to issues related to change of address, and 2,747 changes/corrections to existing registration information.
GECOM advises that persons wishing to make use of the continuous registration process must be in possession of the relevant source documents as might be necessary to support their applications for registration. These are original birth certificate issued by the General Register Office or a valid Guyana Passport; original marriage certificate (and original birth certificate) – in the case of a name change by way of marriage; original deed poll and original birth certificate – in the case of any change of name by deed poll; and original naturalisation certificate issued by the Home Affairs Ministry and original birth certificate/valid passport – in the case of naturalisation. Evidence (photocopy/duplicate) of an application having been made for naturalisation will not be accepted.
NOT ACCEPTABLE
Baptismal certificates, expired passports, photocopies of relevant documents or letters from priests, elders, headmasters, village captains/toshaos and Justices of the Peace or existing ID cards will not be acceptable as source documents for registration.
Persons who were already registered could, if necessary, apply for a name change in the case of the change of name(s) by marriage or deed poll, since they were registered; or apply for correction(s) if there is incorrect information on their National ID cards; or apply for a transfer if they have changed their addresses since they were last registered.
Additionally, persons who are already registered could request that their photographs be retaken if the quality of the photograph on their ID cards is unacceptable, or collect their new ID cards if they have not done so as yet.
GECOM has 28 permanent registration offices located in the 10 administrative regions. Persons are required to visit the registration office that is responsible for the registration of persons in their area of residence to apply for registration or uplift their National Identification Card if they were previously registered and have not done so as yet.