THE Ministry of Agriculture has not yet released its targeted rice production for 2015, but Minister of Agriculture Dr. Leslie Ramsammy, offering an early take said that he does not foresee that the 2015 production will be less than 600,000 tonnes.
Guyana's rice production has, for the first time ever, surpassed 600,000 tonnes, a record that was broken on October 27 with just under 86 per cent of the crop harvested.
Minister Ramsammy said that in terms of 2015, the industry is expected to sustain this production, despite the fact that the prices offered for rice and paddy in this second crop were not as high as those offered in the first crop, and certainly below those offered in 2013.
"Many people have said that the cultivation will drop off, the indication that we have right now is that we will have the same amount of land under cultivation in the first crop of 2015 which would be somewhere around 95,000 hectares, which is over 200,000 acres, which means that the conditions, that include payment have not discouraged the farmers from going back," Minister Ramsammy said, adding: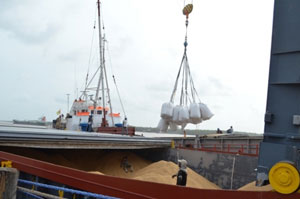 "Given that we are about 5.5 tonnes (yield) per hectares, I would expect that the 600,000 tonnes that we exceeded in 2014 can again be exceeded in 2015." The Minister said that Guyana, with the conditions experienced now, without any extra land can in fact reach 800,000 tonnes, more so if agriculture practices continue to be improved. "We have gone from 2 tonnes per hectare in the late 1980s, early 1990s to 5.5 tonnes per hectare, and if we continue those improvements, that will make the difference," the Minister said.
That the rice sector continues to experience an annual increase, is not only as a result of more land being put under cultivation, but also because farmers are being exposed to improved farming techniques and have access to better seed varieties. These in turn increase the harvest per hectare.
Minister Ramsammy pointed out that with the new rice variety, the GRDB 14 being introduced in this coming crop, then it is expected that yield would increase even further. "If we have just an increase in yield to 6 tonnes per hectare, it will take us to 800,000 (tonnes), and if we then have some increase in land, you are looking at Guyana being able to reach 1 million tonnes," the Minister said.
"I am not saying that we should try to get there quickly, because we need to also build our market, but the market potential is available for Guyana. We just need to ensure we supply that," he said.
Guyana has built an industry based on its boost of having the longest grain rice, but there are markets that also want medium grain rice, hence Minister Ramsammy explained that the country needs to look at what it is growing.
HISTORIC PRODUCTION
Meanwhile, Minister Ramsammy reported that the country has attained rice production of about 630,000 tonnes for 2014 thus far, with small pockets of fields remaining to be harvested. These were due to be completed in the week of November 20, but the rainfall experienced in the country affected harvesting.
"Whilst the heavy rainfall had little impact on the new cultivation, and in fact many farmers welcomed the rain for that purpose, those who were late in harvesting could see some losses."
He said that the ministry is at present monitoring the non-harvested acres. "We do not have at the moment any sense of loss from that, but we would be surprised that some people, not some much because of the flooding, but because they would require dry dam conditions and so to bring in combine and remove the paddy, would have some difficulty," he said.
EXPORT PROJECTION
Minister Ramsammy also reported that at the moment, the industry has also surpassed for the first time in history the 450,000 tonnes of actual export. This is rice that has already reached their destination in the export market. The country still has some 85,000 tonnes under contract for delivery in 2014 which would mean that it would meet 500,000 tonnes this year, for the first time, in the country's history.
The Minister said that he has been examining how long it took the industry to get to the 50,000-tonne export mark, then to 100,000 tonnes and further. "The story in Guyana is that we passed the 100,000, then 200,000 then 300,000-tonne mark, but then jumped from 300,000 to 500,000, if we do reach it this year. It took us almost 80 years to reach the first 100,000 tonnes of export, but it took us less than one year to go from 300,000 to 500,000 tonnes," Minister Ramsammy pointed out.
He said that the only thing that would prevent the country from reaching 500,000 tonnes this year would be bad weather affecting the loading of ships. "If we are able to load just 50,000 tonnes in the next five weeks we should be able to reach 500, 000," the Minister said.
By October, the quantity actually shipped was 77,000 tonnes, by far the most rice ever exported in a single year.
Meanwhile, in terms of sales by farmers to millers, the country has exceeded thus far $42 billion, Minister Ramsammy said. Out of that sum, the majority was made to farmers. Whilst commending the millers for their efforts, he also noted that there is still about $6 billion that is outstanding and in this regard appealed to the millers to make a real effort to have these paid.
The Minister did say however, that he met with the banks recently and is aware that they are at present providing loans to the millers to pay off part of that $6B.