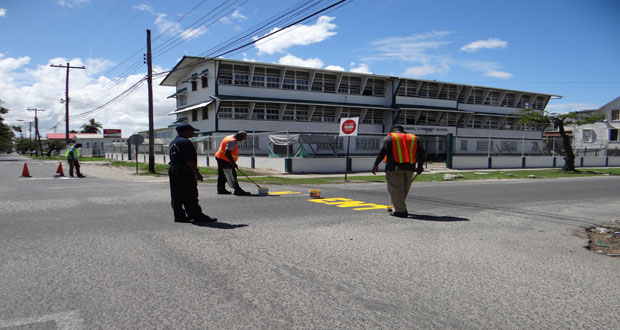 THE Alberttown/Queenstown Community Policing Group (CPG), in observance of National Road Safety Month, conducted a two-day sign painting exercise on the roadways in that Georgetown area.Accompanied by a senior police officer, the CPG members, in collaboration with the Ministry of Public Works, embarked on this "sign painting" exercise on November 16 and November 18, 2014.
Road markings, especially around schools in the area, have now been noticeably improved.
Chairman of that CPG group, Jollian Knights, indicated that the exercise, also supported by members of the community, will be an ongoing feature, and he hopes that more persons would come forward to assist, since the CPG plans to erect road signs at street corners, including at Fourth and Light Streets and at Light and Third Streets, Alberttown.
The CPG erected road signs and markings at the following places:
Alberttown Police Station; at Fourth and Light Streets; at Albert and Third Streets; at Head Start Nursery School; at St. Ambrose Primary School; at the Queenstown Community High School; at Minister Rohee's residence; at the Comenius Primary School; at Irving and Crown Streets, and at St. Gabriel's Primary School.