-hundreds of vehicles destroyed
AKBAR Auto Sales (main Location) in Cornelia Ida (CI) on the West Coast of Demerara was completely destroyed by a fire of unknown origin.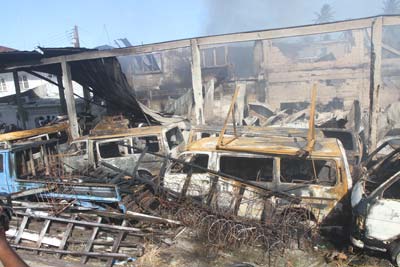 The fire started at the back of the building at about 12:15 hrs yesterday with over 110 vehicles, new and used also destroyed.
A resident living nearby told the Guyana Chronicle that the fire which started at the back where a furniture factory is located and belongs to the same owner rapidly destroyed the building before spreading to the area where the vehicles were located.
He said that as soon as the fire started the Guyana Fire Service was called which responded within seven minutes and started to bring an end to the fire.
When the Guyana Chronicle visited the burning building it was already completely destroyed even as the fire fighters tried their best in putting out the fire. The fire was so big causing both of the fire trucks to start using water from a nearby canal.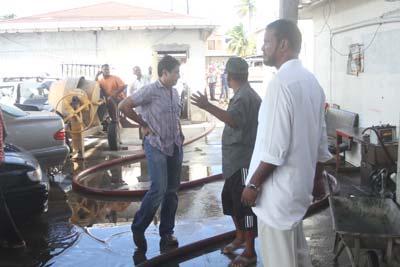 The owner of the business Munaf 'Akbar' Hussein told the Guyana Chronicle that he was at the Mosque performing Jumu'ah (Friday) prayers when he got a call stating that his property was on fire; he said that he was told that the fire started at the back of the building and began spreading.
He said that he has no idea of how the fire started but continues to give thanks to the Lord because things like these do happen.
"My staff was on lunch when this happened and the work which the Fire Service did to put out the fire was an excellent one. I must give credit to the Government for all the equipment it has given the fire service because we would have lost more. They came really quick," Hussein said.
A senior fire officer said that the fire service is doing their investigations and it is to be completed in a matter of days.
(By Asif Hakim)