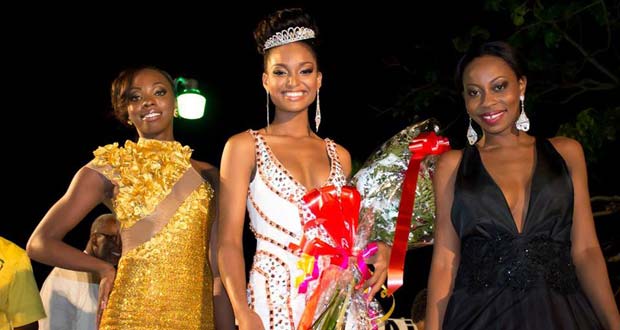 NINE dazzling ladies took to the stage at Pegasus Poolside on Sunday night last to battle for the coveted Miss Guyana 2014 crown.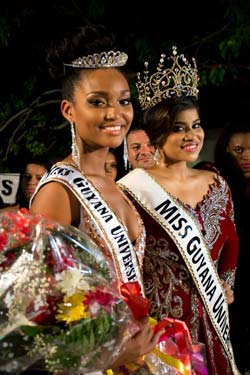 But in the end it was the outstanding Nikita Barker who took the top honours with the provocative Miss Jamzone International, Soyini Fraser, having to settle for the second spot. In third place was the ever-smiling Lakita Mc Phoy. Barker also won the prizes for Best Smile and Miss Intelligence.
There was a tie in the placing for Miss Congeniality and this was won by Cardella Hamilton and Rochelle Cheddie.

MISS BODY BEAUTIFUL
The audience was shocked that the suave and electric Jyoti Hardat despite her stirring showcase failed to make it in the 'top three' finalists. In conversation with at least three judges, even these ladies seemed bewildered that Hardat was not mentioned as a finalist. She, however, won the title for Miss Body Beautiful.
The show began just shortly after 20:00hrs with impressive dance pieces by the Classique Dance Company as MC Feleze Robertson created quite a feisty and entertaining atmosphere.
Adding much luster to the event also was the talented dancers from Jewan-ka-nritya Dance Company.
The delegates appeared on stage in the Introductions Segment, and Hardat was very saucy, evoking loud applause from the audience. Alicia Kirton followed and did well as expected. She made way for Sonia Cummings who seemed a bit timid, but presented a noteworthy performance.
Cardella Hamilton infused suave and fire during this segment, and Rochelle Cheddi took things to the very limit in her showcase.
Lakita Mc Phoy was bubbly as usual, and Shonette Cain shone with sensuality. The eventual queen, Nikita Barker came in like a wrecking ball and Soyini Fraser matched her theatrics with a 'show stopper sizzle' that worked wonders on the audience.
After a spectacular performance by Trinidad's Soca Sensation 'Kes', the delegates took to the stage in their stunning swimsuits and those who rocked the venue were Hardat (Sizzling Siren), Fraser (Tropical Volcano), Cheddi (Provocative Vixen), Barker (Sensual Tornado), and Shonette Cain (Temptress).
EVENING GOWNS
The crowd simply exploded when the mesmerizing Hardat hit the stage in a body hugging scarlet red ensemble that did wonders for her magnificent contours. This gown allowed for full exposure of the entire back and was further accentuated with a shower of abundant silver costume jewellery that made her the diva of the night.
Kirton wore a simple mint green dress with a slit that allowed ample view of her left thigh. This dress was highlighted with hues of blues and other tropical shades.
Cummings wore a simple peach gown that allowed exposure of her back, and it was accentuated with gold accessories.
Hamilton was the 'diva of the prom' with a frothy looking yellow masterpiece that was decorated with gold and light green trimmings.
Cheddi was a graceful swan in a body hugging gold outfit, with a mesh effect that left eyes glued to her sultry legs. Mc Phoy's lush black gown was described as 'flat' by many and lacked the customary glitz associated with evening designs.
Barker was a divine 'Charlie's Angel' in a glorious white gown with highlights that created arresting glitter. The piece allowed full view of her back and ended with billowing skirts and a trail that added evening magic to her attire.
Matching her 'step for step', Fraser appeared with a shimmering gold figure clinging creation with 'see through fabric' that allowed glimpses of cleavage and a well toned back. The flowing skirts and elegant trail truly proclaimed her the queen of the night. And indeed she worked it with the finesse of a Persian Goddess.
One has to agree that the three finalists answered their final questions quite effortlessly but the judges found favour with Barker who was declared the queen and will represent Guyana later this year at the international leg of the pageant.
(By Alex Wayne)