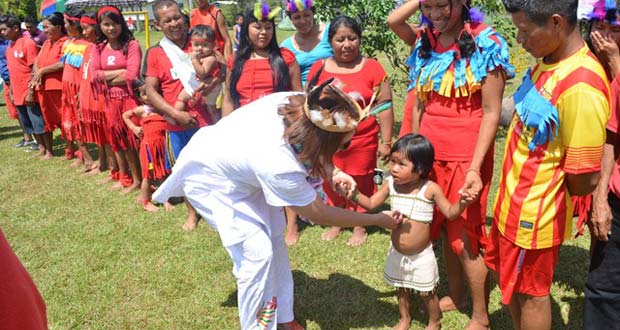 – at village's heritage celebrations
"LANGUAGE defines a people and when you lose it, you lose a very large part of your culture". These were the words of Foreign Affairs Minister, Carolyn Rodrigues-Birkett who, yesterday, joined with the Toshao and residents of Paruima Village, Region Seven in their Heritage celebrations, where all of the cultural items were done in their native language.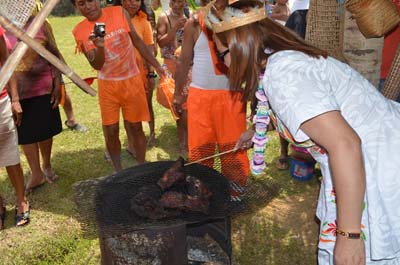 The minister said that at a time when many Amerindian settlements have allowed the language to be lost, the people of Pariuma have not only preserved their language, but also use it on a daily basis. This, she said, is most commendable.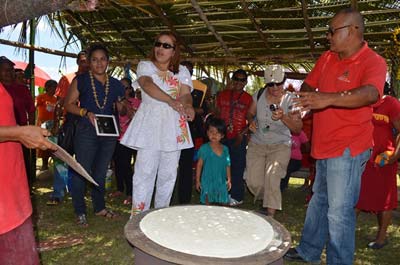 Today, six Amerindian languages are alive in Guyana, while the Government is working to resuscitate the others through its Language Revival Project.
Minister Rodrigues-Birkett spoke of the importance of education in driving development in hinterland communities and emphasised that obtaining a sound education does not in any way mean that indigenous peoples have to lose a part of their culture.
Recognising the importance of education, the Government of Guyana has been investing heavily on building schools and dormitory facilities throughout the hinterland. Minister Rodrigues-Birkett recalled that about 14 years ago, there was only one indigenous doctor in Guyana. Today, there are about 25, who were able to become professionals in the field of medicine through the Cuba Scholarship programme.
"Our job is to work to make sure that we give our young people these opportunities so that they could be what they want to be. Many of these schools are doing well, but we still have more work to do," she said.
At present, the Education Ministry is looking at establishing another secondary school in the Upper Mazaruni to deal with the issue of overcrowding at the Waramadong Secondary School. This, Minister Rodrigues-Birkett said, is a clear indication that more children are in school.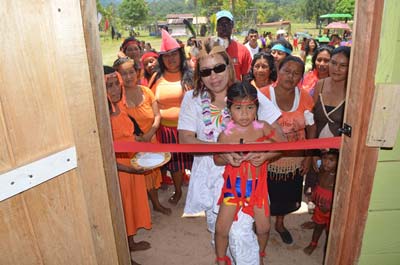 She said that while Heritage Month is a time for celebration, it should also be used as a time to reflect on the progress made individually, as a community and nationally as a people. One of the issues that she said must be addressed in hinterland communities is that of excessive alcohol use, particularly in the festive month.
The minister recently visited an indigenous community in New Zealand, where tourism is playing a critical role in their development. Recognising that Guyana's hinterland has the same potential, the minister is making arrangements for a group of Guyanese Amerindian leaders to visit New Zealand so that they can observe and replicate what is being done in that country.
Paruima Toshao, Damian Chambers said that Heritage celebrations in their village have become an annual event and their food and traditions are very unique to the Arecuna people.
While there, the Minister also handed over a quantity of books to the head teacher of the Paruima Primary School and commissioned a sewing room that was built for the women's group in that village.
Heritage celebrations were observed under the theme, 'Traditional Embodiment for Amerindian Development'.
(GINA)