Former Foreign Affairs Minister Rudy Insanally now relaxes
AFTER serving as a distinguished diplomat for over 50 years, spending most of this time in a foreign country, returning to Guyana intermittently, at 78 years old, he is still sharp as a sword. He is relaxing and "enjoying a bit of old age," which of course he fully deserves.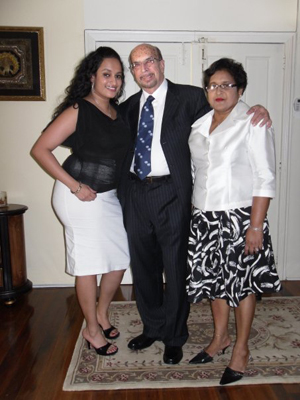 Meet the brilliant, successful, down-to-earth, and easy-to-love Samuel Rudolph Insanally, well-known as just Rudy Insanally. He returned to Guyana definitively in 2001 and served as Foreign Affairs Minister until 2008 when he became weighed down with health issues. Since then, he has kept a low profile.
Mr. Insanally was accompanied to this interview at the Guyana Chronicle a few days ago by his lovely wife of 30 years, Bonita. She is employed with him on a full time basis. She joked and seems to be enjoying the job quite a lot.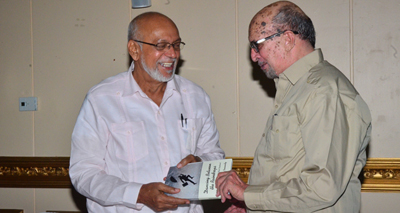 Describing her husband, Mrs. Insanally said though many people may see his serious exterior, Mr. Insanally likes to laugh and make jokes and moreover, enjoys dancing. "I've never met anyone that didn't like him," she proudly disclosed. We believe these are some reasons she enjoys 'working' with her husband on a full time basis.
Mr. Insanally grew up in Georgetown, at Kitty, and lived quite a few places, including Kingston and Alberttown, before leaving Guyana in 1954. His early education was done largely at Christ Church. After spending one year at Central High School, he obtained a scholarship for Queen's College (QC), then one to the University of the West Indies (UWI), and then another to France.
He taught French and Spanish for some time in Jamaica and did research work at UWI in Haitian Creole, but when he was in France, he realised that Guyana was becoming an independent nation and thought to himself that maybe he should get into something like international relations. And this he did.
Explaining further how he got into the diplomatic service, Mr. Insanally recalled that once when he was coming home to visit his dear mother, he had a conversation with former President Cheddi Jagan on Guyana's becoming independent.
"Afterwards I got bored in Jamaica and I said I might as well come back. I started teaching at QC for a short while and they then opened the university so I transferred there and taught there for several years. "
"It was an interesting period but when I came back the big strike was on. I think it was in 1963 so a poor student arriving in the country to find that he can't work; it was very off-putting but I did work at the university until after all the travails and the hiccups," he recalled.
When Guyana gained its independence, he was sent for training in Canada and the United Nations and afterwards was posted simultaneously to Washington and Canada. At one point, he was appointed Charge'd' Affaires in Caracas, Venezuela and was later transferred to the Permanent Mission of Guyana to the UN where, as Deputy Permanent Representative, he was active in the negotiations for the Second Development Decade Strategy.
He was also posted as Permanent Representative to the European Economic Community in Brussels where he served as Ambassador to Belgium and on a non-resident basis to Austria, Norway and Sweden.
From 1994 to 2001, he served as Chancellor of the University of Guyana. Mr. Insanally has written and lectured widely on the subject of diplomacy and international relations in general. He recently launched his second book titled: 'Dancing Between the Raindrops: A Dispatch from a Small State Diplomat.'
A flair for languages
Growing up, Mr. Insanally had no clue of what he wanted to become, in terms of career choice. "But I found I had a flair for languages. I loved being around people to talk and I did languages before going into international relations. By then I knew that I wanted to be a diplomat.
"I couldn't be a diplomat before because we weren't independent. I could have gone to work in the UN but it wasn't so easy in those days. So that's when I decided. It was a love for languages and I liked the atmosphere when I went to travel and we had the border issues on our hands. I always felt I could solve them for the government overnight. So it was a matter of time. It just turned out that way but I have not regretted it," he expressed.
But 50 years isn't exactly a short space of time and so Mr. Insanally at times felt overwhelmed as if he wanted to quit and do something else. "I used to tell myself that I am so fed up with this job that I would willingly accept a job cleaning floors just to do something different and meaningful. But I enjoyed it. I don't want to conceal that. I enjoyed it."
Unassuming
Mr. Insanally does not believe that he is better than anyone, and hence does his best to maintain friendships and be the same to all. "I pride myself in being one in the crowd. I don't try to set myself apart. It's dangerous in the diplomatic life. It's not easy to make friends when you're like that."
One of his policies is to keep the doors of communication open. "I remember when we were not talking to South Africa. I was never allowed to speak to the Ambassador. But he was a human being and I used to say hello and it was a good thing because although the black government came into power, they kept him on and so I had to deal with him," he recalled.
This served as a lesson to him that it is futile to play great with others. "I feel that one should not encourage resentment," he said.
Mr. Insanally also gives the 'Widow's Might' whenever he can. "I believe in helping people who can't help themselves," he said, adding that he loves to support a good cause. Hence, even when he cannot make it personally to an event, he would ensure that he sends someone on his behalf.
"We have to find something to occupy ourselves. I believe that life is just a distraction from death. Life is short. Death is infinity so I think we should make the least amount of trouble while we are alive and do the best we can. I have to confess I'm a perfectionist. I like to know that what comes out is the best possible. So I work on it to achieve that. But I don't let it show," he said.
Mr. Insanally disclosed that his greatest achievement is having a daughter and wife like the ones he has. He is very proud of his daughter Amanda, in Boston currently, who is doing a doctorate in clinical psychology.
(By Telesha Ramnarine)