RUSSIAN Ambassador to Guyana, His Excellency, Nikolay D. Smirnov, has underscored that the Russian Government aims to have political negotiation with the Ukrainian Government to combat the current situation in Ukraine.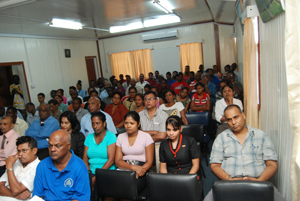 At an organised forum on "The Current Situation in Ukraine", hosted by the Federation of Independent Trade Unions of Guyana (FITUG) on Thursday evening, the Ambassador provided possible solutions and a synopsis on the present Russia/Ukraine humanitarian crisis.
To demonstrate his explanations, the ambassador illustrated his enlightenments via pictorial slides by which he traced the American interference in the new republic's affairs since independence was gained in 1991.
He emphasised Russia's military non-involvement in Ukraine, even though Ukrainians are still on the verge of sabotaging Pro-Russians.
The underlying causes of the escalating conflict were also addressed, particularly the US interventions. The ambassador pointed out Ukraine's misguided efforts to join the European Union (EU) as well as the palace coup d'état against the previous democratically elected Government of Ukraine.
He emphasised that Ukraine's desire to join the EU would militate against its economy, with current effects being felt throughout the Region, since Russia will not tolerate EU dumping. Added to that, he noted the consequences of interventions by the International Monetary Fund (IMF) and the World Bank, whilst refreshing the audience on the EU's harsh treatment of Guyana and the Caribbean with respect to rum and sugar exports.
He then warned about the possible implications for bauxite from Guyana using Ukrainian ports.
Furthermore, there has been an uproar surrounding the humanitarian relief aid to be delivered to the Pro-Russians, whereby the Ukrainians were not allowing the aid to reach its people.
However, the ambassador was pleased to announce that the aid was delivered just last week.
From the Russian Government perspective, there is the desire to help Ukraine. The ambassador said the Government wishes for a "prosperous democratic country (Ukraine)."
He added, "We (Russia) do not want to impose anything on our neighbour, since, for centuries, we have been together."
He then made reference to Guyana and its neighbouring countries, since, despite all its conflicts and disagreements, solutions have been made, "thanks to the wisdom of today's government," he said.
Written By Shivanie Sugrim