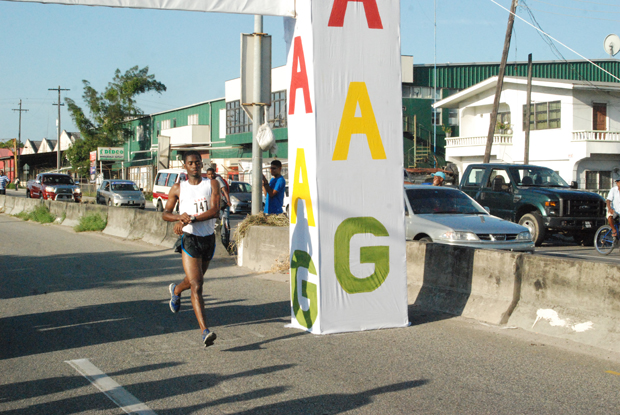 Cleveland Forde and Euleen Josiah-Tanner retained their male and female titles respectively at the fourth Annual Neal and Massy 10 kilometres athletic Road Race from Vreed-en-Hoop, West Coast Demerara to Associated Industries Limited (AINLIM) head office at Ruimveldt, yesterday.It was a fourth consecutive victory for Forde, the national distance runner who finished the race in a time of 33 minutes 20.12 seconds, as the race crossed the Demerara Harbour Bridge for the first time this year.
He was closely followed by arch-rival Cleveland Thomas who clocked 33 minutes 48.81 seconds for second position, while Nathaniel Giddings was third in 34.07.64, Dennis Horatio fourth in 34.40.52, while Winston Missinger was fifth in 35.34.08.
United States-based Josiah-Tanner continued her domination of the local race circuit as she crossed the finishing line in the time of 39 minutes 25.89 seconds, two minutes ahead of second place finisher Alika Morgan (40.37.75) who was the inaugural race winner.
Andrea Foster was third in 42 minutes 06.76 seconds followed by Carlissa Atkinson (fourth) in 45:18.71 and Jevina Straker (fifth) in 45:06.13.
In the Boys category, Grivon Grant was the top finisher in a time of 35:27.19, followed in second position by Ornesto Thomas in 35:57.53, Colvis Saul 36:13.05 (third), Matthew Mackenzie fourth 36:17.06 and Carl Mackenzie 36:42.88 fifth.
Shontel Hinds placed first in the girls category in a time of 45:14.56, in second place was Mariah Mackenzie 46:19.8, Yolit Charles 50:26.13 (third), Keneshew Stephenson 52:14.51 (fourth) and Endia Forte (fifth) in one hour seven minutes, 40 seconds.
Alisha Fortune maintained her stronghold of the Veteran women's category as she crossed the finishing line in 52:48.77 followed in second position by Cryleen Phillips in 54:07.12 and Carla Benjamin third in 1:01.49.
Eon Archibald was first in the veteran 40-55 age category in 38:40.77, followed by Lindon Hornson (42:30.51) and Kwame Bright (42:32.05).
The winner of the men 55 years and over was Llewellyn Gardner who finished in 41:14.71, followed by Ravi Purohit in 49:16.03 and Maurice Fagundes in 50:36.28.
The event also had a five kilometers component from the Demerara Harbour Bridge to AINLIM which attracted employees of the Neal and Massy as part of their Health and Wellness Programme.
Deo Persaud, Chief Executive Officer of Neal and Massy Guyana, expressed the Group's commitment to sponsoring the race once again next year, with a few changes including the name of the race.
He said the Group is going through administrative changes which will be rolled out shortly to coincide with its Anniversary to be celebrated on September 16th.