THE initial stages of a massive road rehabilitation programme in Region Ten (Upper Demerara-Upper Berbice) have begun in the community of Kwakwani, with significant support from Bai Shin Lin International Forest Development Inc.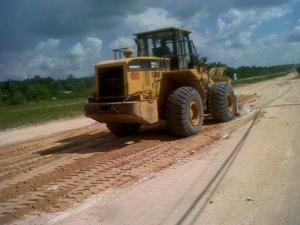 The work, which began on Friday, will see approximately 5 miles of internal roadways in Kwakwani being rehabilitated, and is expected to be concluded within ten days.
The newly-formed Linden Kwakwani Road Users Association (LKRUA), which represents several logging associations in Region Ten, is spearheading the efforts with key support from members of the Kwakwani Natural Resources Organisation (KNRO), and the Upper Berbice Forest and Agriculture Producers Association (UBFAPA).
Bai Shan Lin has been meeting with representatives of the LKRUA over the last several weeks to map out a detailed plan on the Company's support for road rehabilitation efforts in the Region.
Bai Shan Lin and the LKRUA recognise that for the efforts to yield maximum results, all stakeholders, including other companies operating in the Region, must play a role in the overall efforts. In this regard, Bai Shan Lin has moved to take the lead, and is currently supporting the efforts with the loan of four trucks and a loader, as requested by the LKRUA.
According to BSL Chairman, Mr. Chu Wenze, the company is happy to be associated with this initiative, and stands ready to continue lending support to the communities in which a significant number of people benefit both directly and indirectly, from the company's operations.
He pointed out that the Company has been supporting such activities for some time now, and welcomes the move by loggers to organise themselves into groups, so that they can more effectively work to bring about improvements.
Wenze said Bai Shan Lin has always operated in an atmosphere of openness and inclusivity, and holds in high regard the continuation and further development of a healthy and productive relationship with the communities in which it operates.
The company has, and will continue to operate within the confines of regulations governing the forestry sector, and the laws of Guyana.