PRESIDENT Donald Ramotar told miners on Saturday that the road from Bartica to the interior would be fixed, as money has been provided to execute works. He also stated that Government would work closely with the Bartica Interim Management Committee (IMC)to address the issue of garbage.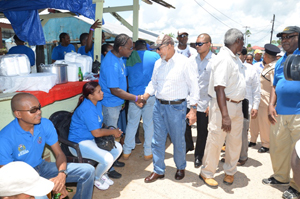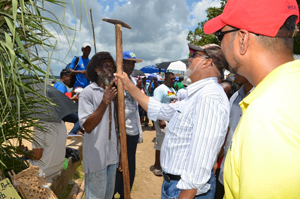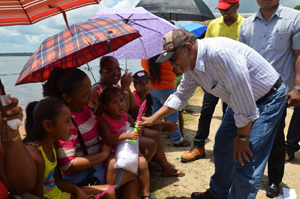 "Just to let you know," he said, "we are going to fix this road; and at the moment, we have just given the Ministry of Works $89M to try to do work to make this road and drainage better, until we can fix it to the standard of a highway.
"But we are going to continue to work on that. We are working very closely with the IMC in Bartica in order to clear the drains and garbage, and if we had the resources that can become available from saving $9B per year (for electricity subsidy, which could be saved through hydropower), we will not have enough contractors and workers to do all the work we can do with $9 billion; and we can solve the problem we have with garbage and drainage etc."
He told those gathered for the Pork-Knocker's Day event at Bartica, Region Seven, that the biggest impediment to development is the lack of cheap energy.
"That is why the Government continues to pursue the Amaila Falls project that was scuttled. We should have already started building that, but because of shortsightedness and narrow-mindedness, we have not started as yet to develop our power industry.
"Let me just tell you what potential that has to transform Guyana: At the moment, the Government spends $9 billion per year to subsidise electricity across the country. The moment we get hydro-power, we will be able to save that $9 billion a year; and not only that, consumers will be able to save as well, because it is expected that their bill is supposed to come down. More importantly, it will give us the cheap energy that is required to add value to our products, like gold," the Head of State asserted.
He indicated that Government is looking at hydro-power development right in Region Seven, in cooperation with the Brazilians.
He assured miners that they and the role that they have played have been recognised by his government, and he spoke of the developments that are soon to take place in the mining sector, such as the Aurora mines in the Cuyuni area, and Troy Resources coming into operation next year.
He pointed out that what is badly needed is value added products, as not only the gold industry needs to be developed, but also a jewellery industry to produce jewellery on a large scale.
"There are also lots of other resources: Semi-precious stones we can use, and people can (derive) a good standard of living from mining these semi-precious stones that are present in our society," he said.
The President then spoke of the negative reporting which alleges that Guyana is destroying its forest. He explained, "Our extraction is way below the allowable extraction for a sustainable forest…. If we do not export them, what will we do…? We do not have the cheap energy to do the value added that is so necessary for exports and to earn us more money."
Touching on the issue of investing in people, the President said, "We need to invest wisely. We need to invest in infrastructure, but most importantly, we need to invest in our people. That is why we are spending so much money on education. And I am proud to see that, among the top 100 students this year, Bartica has done extremely well in that regard."
Calling for people to be united, he said it's only through unity that the country can be propelled, and he urged their support for Government's policies, which are aimed at making the country better. (GINA)