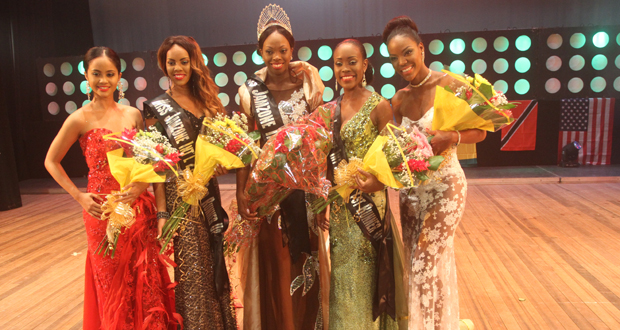 –snags US$10,000
WHEN the 2014 Miss Jamzone International Pageant kicked off at the National Cultural Centre last Friday, it was quite obvious that the event lacked the customary glitz and sizzle as experienced years ago.
The delegate line-up this year was certainly not as exquisite as last year's, save for the compelling presence of Miss Guyana, Soyini Fraser, Miss Trinidad and Tobago, Yaya Henry, Miss Bahamas, Lexie Wilson, and Miss Barbados, Dannyele Leslie.
However, it was the captivating Miss Guyana, Soyini Fraser who eventually fused intelligence and 'Guyanese sizzle' to cart off the coveted crown and the whopping US$10,000 and bragging rights associated with the pageant.
In second place was Miss Barbados, Dannyele Leslie, with Miss Bahamas, Lexie Wilson placing third. In the fourth runner-up spot was Trinidad's Yaya Henry, with Jamaica's Joanna Sadler placing fifth.
Miss St Vincent, Aphesha Mathews won the prize for Best Gown, Best Country Presentation and the People's Choice Award, while the Trinidadian delegate won in the Best Smile and Miss Body Beautiful segments. The new queen won in the Best Costume Category and also scored big as she won the prize for Best Fantasy Swimwear.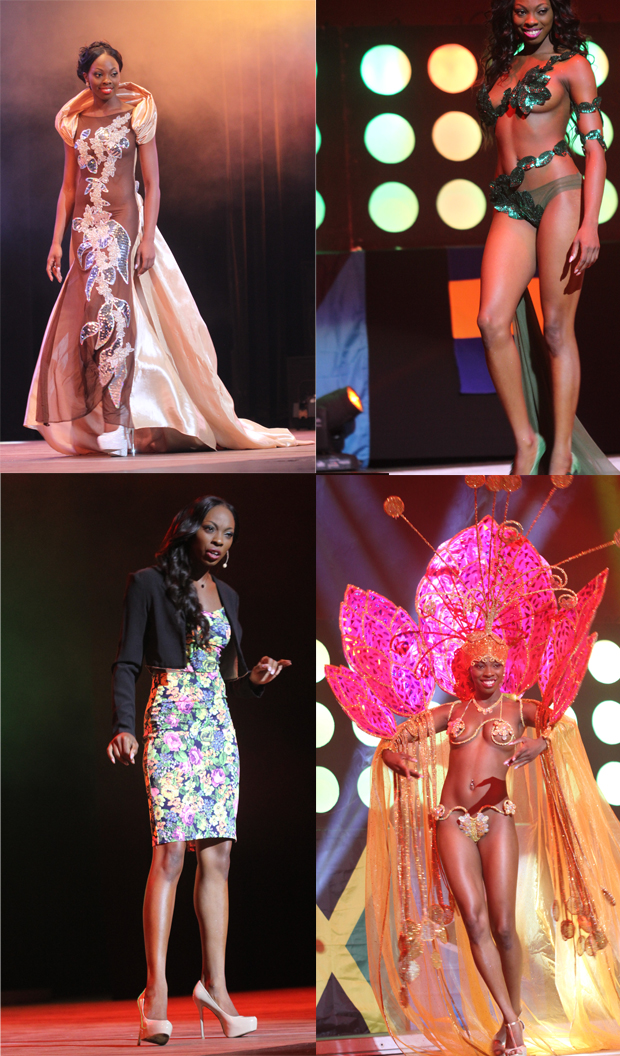 LET THE SHOW ROLL ON…
After a somewhat lukewarm dance presentation by the Classique Dance Company, the audience was again tortured by Guest Artiste Diane Mc Clean when she was called to perform a sort of upbeat, somewhat 'jazzy' vocal piece. While her voice was excellent, the audience sighed, giggled and heckled at her lame attempts at dancing and some suggested loudly that she should have just stood center stage and sang instead of miserably trying to be the 'J-Lo' she may never become.
Then the stage exploded with tropical colour as the delegates made ready to showcase their national costumes.
First up was Miss Bahamas and she was quite feisty and colourful in her billowing skirts, lavish headwear infused in a majestic twinkle of gold and orange made from native straws of her homeland.
She was followed by Miss Barbados who wore a brilliant carnival-styled costume dubbed, 'Gem of the Caribbean Sea'.
Miss Guyana came on stage to thunderous applause in a dazzling creation that depicted our water lily and mineral resources in startling colours, hues and shades that would be long remembered.
She made way for Miss St. Lucia who displayed her national dress which was a striking ensemble with glorious flowing skirts, and 'Caribbean prints' with the associated trail and umbrella that depicted the ancient St. Lucian woman.
Miss St. Vincent and the Grenadines was also very impressive in her remarkable coat that depicted their national bird and their famous hibiscus flower, amongst other trademark items. And as expected, Miss Trinidad and Tobago brought to the stage, 'The land of Carnival' in attitude and costume. With frenzied gyration she was a dazzling blur of pink and other Caribbean shades as she promoted the Land of the Humming Bird.
Miss USA, Kadian Collins appeared as an 18th Century Native American woman, and she was a stirring picture as she demonstrated the use of the traditional bow and arrow. This segment was closed with a scorching vocal performance by Kross Kolor Studio's Teneica De Freitas. She performed the original piece, 'Think I am Crazy'.
INTRODUCTION SEGMENT
This segment truly tested the delegate's intelligence, fluency and their knowledge of their native country.
Bahamas was fluent as she stirred up the audience with theatrics and dances, but many felt her presentation was not enough to secure a win in this category. Barbados brought to the forum, a rich and entertaining showcase of their culture, national foods, dances, festivals, and Barbadian celebrities.
Miss Guyana was most entertaining as she chose to deliver in her native Creole language. The crowd almost laughed their heads of as she creatively sold Guyana like a genius, promoting Bartica Regatta, the luxuries and beauties of Linden, the Kaieteur Falls and many other treasures, without failing to mention that Guyanese, among other defining features, are famous 'for giving blow'. The audience just loved her…
Jamaica brought a lacklustre showcase and seemingly could not get her puppet character, 'Fyreesha' to bump and grind as she wanted her to.
And St. Lucia's presentation on their customs, traditions and tourism highpoints went 'haywire', even as her attempts to perform Soca Temptress, Alison Hind's 'Roll it Gyal' were equally miserable.
St Vincent and the Grenadines was very entertaining and dramatic as she chose to sell her country, acting the role of a tour agent representative. She did so, using 'separate voice tones' (both Creole and refined English) and had the gathering on her side as she sold their Botanical Gardens, Black Sand Beaches, and many native dishes.
Trinidad brought the steelpan to the stage and their delegate did an excellent job before launching into a good verbal presentation of their culture, camaraderie, and unity shared by the different races.
Quite wisely the USA was depicted by the famous Statue of Liberty and their girl spoke nicely of their esteemed industrial development, and their towering skyscrapers. This delegate, however, failed to connect with the audience and judges and spoilt her night when she attempted to sing 'Riannah and Jzee's' 'Let's Hear it for New York'. She left the stage hurriedly as the audience emitted groans.
FANTASY SWIMWEAR
This segment was expected to showcase the creative abilities of each delegate. While some tried their best at impressing the judges, others were just plain lazy, or lacked any creative talents at all.
Miss Bahamas was sexy and scorching in a white lacy two-piece ensemble that revealed much hips and a 'bundle of cleavage'. The creation was fitted with a wide flowing skirt that had sections of the audience murmuring, "Eh eh! A skirt with a swimsuit fuh de beach! She mus be crazy…!"
Barbados was on fire in a revealing piece in metallic shades that barley allowed much covering to the front or back of the swimsuit.
Guyana brought to the platter a metallic green outfit that barely covered the breast and other regions of the delegate's figure, and a 'mesh material' that allowed almost full view of her left hip and buttock.
Jamaica's sailor girl swimsuit was totally enthralling and their representative certainly modelled it well. Her flirtatious moves and her 'sexy salutes' totally sealed the deal for her in this segment.
St. Lucia's wore a majestic creation made from the rice bag and worked nicely into a matching gloves and astonishing headwear. With dazzling stones and flowers, this damsel was definitely the 'Queen of the Amazon'
The swimsuits brought by St. Vincent, Trinidad and the USA were certainly lacking in 'fantasy'.
EVENING GOWN
Miss Bahamas was simple but stylish in a peach and black off shoulder creation with a darling slit to the left thigh. With twinkling highlights her attire was suggested by some as the perfect evening wear.
Miss Barbados wore a metallic green gown with gold highlights that showcased almost all of her back and ample cleavage. It was accentuated with a glorious flowing trail and was designed by the delegate herself.
Again Guyanese designer Olympia Small-Sonoram came in for high praise with the mesmerizing gown she made for Fraser. This dress consisted of a clinging brown 'see through' bodice with large silver highlights in just the right places without being risqué.
The sleeves were amazing and the towering 'yester-year collar' was simply astounding. The frothy, floating trail added a classic finish to the outfit.
Miss Jamaica was attired with a scarlet red off shoulder gown that carried a revealing slit to the left thigh. This piece was made 'electric' with feathers, beads and silver sequins.
Miss St. Lucia could have done better with the lime green dress she brought to the competition. While it was nicely tapered with feathers and sequins, many felt that it was just too plain and simple.
St. Vincent kept it definitely Caribbean and strutted in a gown that was not fitted with the customary dazzle and glitz associated with this pageant. It was a 'print material' dress, but the style was different and very impressive, as can be seen in the 'cyan-cyan skirt effect'.
Miss Trinidad was a Persian Goddess in a figure hugging white gown that left little to the imagination. It allowed full exposure of her entire back and sapodilla shoulders and she certainly worked the piece excellently.
Miss USA was quite dreamy in a white ensemble with long sleeves that allowed just a glimpse of her back. No cleavage or exposure was allowed with this gown, which dictated that this delegate was keeping things on the conservative side.
Not long after the top five finalists were announced and in that line-up were Trinidad, Jamaica, Bahamas, Barbados and Guyana.
FINAL QUESTION
All the delegates were asked one question (If you were given US$500 to make a difference in someone's life, who would you choose, and how would you make that difference?"
While Miss Jamaica strayed entirely from the question in her answer, Miss Bahamas gave it a fair try. Miss Bahamas stayed on borderline. The two best answers came from Miss Guyana and Miss Barbados, and the National Cultural Centre was turned into wild celebration when Guyana's Soyini Fraser was declared Miss Jamzone International, 2014.
(By Alex Wayne)