APPARITIONS of a black male figure, scratching and tapping sounds, a croaking frog, doors opening and closing, whispers and knocking all sound like scenes from a Hollywood horror movie, but this scenario is happening in St. Lucia.
About three weeks ago, a Guyanese family was forced to flee their unfinished three-bedroom house in Bisee, Castries, by what they describe as an "evil spirit", which has not only possessed their 16-year-old son, but has no intention of leaving until all members of the family are killed.
In an exclusive interview with St. Lucia News Online (SNO) Thursday (May 29), 36-year-old Paullet Adolphus said religious leaders have told the family that the evil entity was "planted" at the residence by someone or some persons.
Adolphus, who now lives in Massade, Gros Islet, said she did not know much about spirits, but based on past and current experiences in St. Lucia, she is now a strong believer.
Signs of evil showed itself not long after the family – Adolphus and her boyfriend and two children (now ages 16 and 13) – bought a piece of land in the hills of the Castries community two years.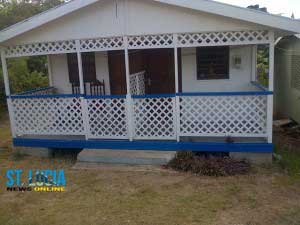 Adolphus said a large, eel-like creature was discovered while they were digging to create a septic tank (pit) on their new property. Eels are not amphibians – they're a type of fish – but can survive out of water for some time. According to various sources, when migrating, eels will cover long distances over land if they have to, and conditions are suitably wet.
However, Adolphus said when the creature was discovered, the land was "dry and cracked", and there are no wetlands nearby.
She said her husband poured gasoline on the "eel", burning the creature's "legs". Later that evening, she claimed her boyfriend complained about feeling a burning sensation on his legs, and the family joked that it was because of what he did to the eel. But when the family moved into the house, strange things began to occur. She gave an account of a series of events she believes were caused by the evil entity.
"Well, the first thing that was very strange: My son woke up the morning, the middle of the night actually, and he said, 'He's coming and get me, he coming, he coming', and he (my son) start crying. So we ran to his rescue, and actually, his neck was going around, so we grab on his neck and we tried to stabilise it, so he said, 'Mommy, he want
to break my neck'.
I say 'Who want to break your neck? They have nothing in there to break your neck; what happen to you?' He said, 'The jumbie, the jumbie (evil spirit).' So my boyfriend hold him, and just as he hold him, the thing tried to possess him too."
She continued: "The morning I woke up and we tell him, 'Well, we have to go to church.' So, while going down, before I go downstairs, I feel something tap my ears, so I said, 'That's funny; nobody in the house (upstairs); who tap my ears?' So I was looking around to see if anybody was just joking, and they had nobody there.
"I went downstairs and I tell them, 'Well, let's go, because something just tapped my ears.
"Eventually, we heard a frog in a very funny sound, so I tell them 'A frog in the toilet.' So, they laughing and say how frog reach in the toilet, but we just joke about it and leave it like that.
"Eventually, it wasn't so; it was more than that. And why? Because the frog eventually became a miserable something; the house, you start hearing the roof, things hitting and pelting on the roof, the doors locking and open, the doors knocking. In the night, somebody would come and do that? I don't think so." (stluciaonline)