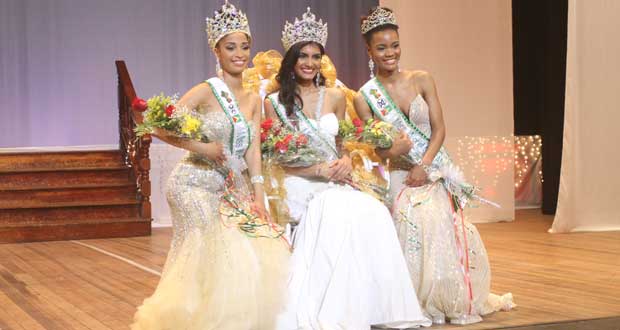 SOME argued that she was not the most stunning girl on stage, and all the other petty disagreements that come with pageantry in Guyana. But none could match the fluency and intelligence of the fiery Rafieya Husain that eventually won her the coveted Miss Guyana World 2014 title.This very prestigious pageant was hosted on Monday night at the National Cultural Centre, Georgetown.
Husain, much to the disappointment of sections of the audience, took the queen's title, with the vivacious Atisha Gaskill taking the first runner-up title. Second runner-up was the electrifying Denicia Williams. In the fourth position was crowd favourite Iana Whitehead and of course this announcement caused real chaos and Whitehead's supporters stormed out of the venue,, some shouting obscenities as they left.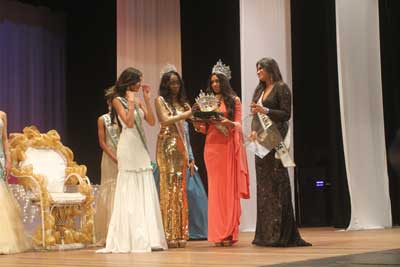 When the special awards were handed out half way into the pageant, it was Atisha Gaskill who took home the Beach Beauty and Fitness and Sport Awards, with Tiffany Megnaught taking home the award for Best Interview. Ayana Whitehead won the prize for Best Talent, while the Multi Media Award was won by Gericia Francis. The eventual queen Rafieya Husain won herself the Beauty with a Purpose and People's Choice Awards.
A large crowd congregated in front of the National Culture Centre, loudly protesting the decision of the judges and threatening to throttle them if they ventured outside. Some individuals, obviously in favour of Whitehead as queen, stormed backstage intent on inflicting harm to the organisers, some of whom were forced to scatter to safety.
The organisers should receive accolades for the creativity they associated with the opening of the pageant but none can possibly refrain from groaning and lamenting on the lengthy periods the poor audience had to wait for each item to get on stage.
Opening the curtain to brilliant decor and the strikingly colourful theme 'Masquerade Lives', no one was prepared for the sudden arrival of costumed dancers who pranced through the audience and thereafter put on quite an impressive show on stage. And the surprises were just beginning, because soon after they retreated, outgoing queen Raquayyah Boyer exploded on stage executing masquerade moves that really stirred up the audience.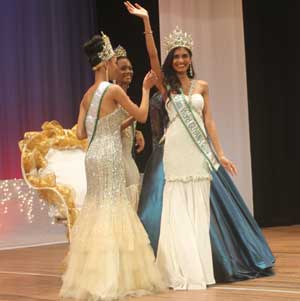 Then in came the eight pretty delegates performing some dance routines of their own that were quite fulfilling. At this point, clad in colourful costumes, they introduced themselves to the audience and the audience went really wild when Ayana Whitehead made her delivery.
The Talent segment
This segment showcased much creativity on the part of most contestants and much of it was dance presentations.
First up was Cherese James and her dance piece was lukewarm, but she was applauded for her efforts. She was followed by Rafieya Husain who offered quite a stirring Indian dance that earned her loud applause. She made way for Atisha Gaskill who filled the arena with sensual undertones as she presented a very captivating dance that reflected our colourful Guyanese culture.
Next to come was Ayana Whitehead and as expected she unleashed electric moves as she presented an interpretive dance that ended on a certain resounding note. She was very dramatic and stirring and her supporters echoed their pleasure. Tiffany Megnauth presented a min- boggling Indian dance with graceful moves, saucy prancing as she creatively infused talent that truly showcased our Guyanese heritage.
Swimsuit Fantasia
The ladies were all on fire during the swimsuit segment and each did an impressive job. But there were a few that had the audience gripping their seats as they exploded with sizzling pivots, sensual sashays, seductive teasing and dashing smiles.
Cherese James opened this segment in fine fashion. She seemed to be making up for her lack lustre presentation in the talent segment and just unfurled like a sensual siren.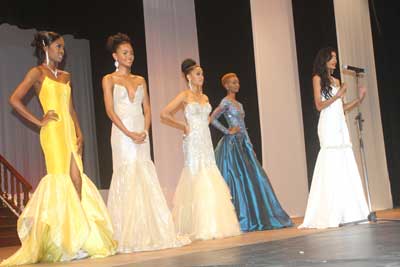 Rebekah London seemed to be the prettiest girl on stage, but she was just cold and though she has a runway body, she just seemed to walk through her routine, hoping desperately for it to come to an end. Then in flew the very sexy Ayana Whitehead and the NCC erupted. She was hot and sexy, provocative and dreamy.
Sadly Tiffany Megnaught never seemed to master her composure in this segment and was just tumbling all over the place.
Gericia Francis, Atisha Gaskill, and Rafieya Husain all did a good job, showcasing their assets with great confidence and poise. Denicia Williams was a sizzling temptress fusing a superb figure, dazzling beauty and sophistication to leave a lasting impression on the judges. The audience took ages to quiet down after this segment concluded, and it appeared like the girls had really turned up the heat at this year's pageant.
The final showdown
The lights timed and soothing, mesmerizing music flowed all around as the damsels appeared in their evening wear.
Floating in like a seductive lass, James paraded in a (mermaid looking) gold figure hugging gown with a modest slit to the front. The ruffles were all enticing and the off shoulder creation certainly did her justice.
Husain looked well in a simple white gown with silver highlights and she certainly worked the piece to the best of her ability. It was her brilliant smile and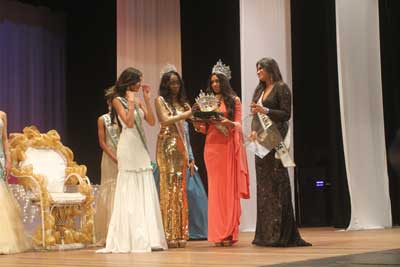 surprisingly stunning moves that captured the attention of the audience.
London's gown was a 'show stopper selection' that bared her entire midriff and large portions of her back. The bouncy skirting was fitted with frothy ruffles that added a somewhat girlish allure to the green creation that was accentuated with silver highlights that caused firelight to dance in her eyes.
Gaskill's glittering peach and gold off shoulder gold ensemble was very eye-catching and she certainly wore the piece well.
Williams was quite dreamy in a figure clinging, gold fish tail gown with an off shoulder effect that bared her sapodilla brown skin. The plunging neckline that revealed ample amount of cleavage was a stealer and it allowed almost complete exposure of the back. This piece was quite a topic amongst women in the audience.
Designer Randy Madray did it again and showcased his talent when Whitehead appeared wearing a dark green creation that showcased billowing yester-year skirts and an almost 'see through skin clinging bodice' that left little to be imagined. This gown was a fusion of fairyland tales as reflected in the wide skirting, yet it was infused with creative sexiness with a daring left slit that travelled all the way to the hips.
The clinging bodice sported long sleeves, and the designer somehow worked it all the way to the top of the right thigh so as to prevent an unpleasant or vulgar display of any kind.
Francis was very impressive in black and gold provocative attire that carried a daring left slit that revealed sultry legs. The top of this dress carried an almost transparent arrangement that left most of her back exposed.
Megnauth's gown was a simple green and black piece that carried a loose, flowing bodice. Again this contestant rushed through her showcase, emitting sounds of disapproval from the audience.
After the Evening Gown Segment the top five contestants were shortlisted and the audience whopped their approval. Cherese James, Denicia Williams, Ayana Whitehead, Atisha Gaskill, and Rafieya Husain were called out and they braced themselves for battle in the Intelligence Segment that decided the eventual winners.
Highlights from the swimsuit showdown.
Each girl tried her best to answer creditably whatever was thrown at her, and most of the answers were appropriate, but they were no match for the queen who provided answers that found favour with the judges.
The pageant came to an end with mixed emotions from the audience, but the new queen was all smiles and happiness as she waved and took her victory walk for the benefit of her supporters.
(By Alex wayne)