Monthly Archives: April 2014
THIRTEEN-YEAR-OLD Rishi Ramkisoon, called 'Sanjay', of Lot 162 Hope West Enmore, East Coast Demerara, committed suicide by hanging yesterday. His father found his dangling body...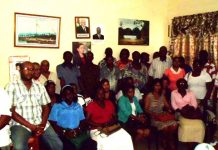 THE Councillors of the National Community Development Council (NCDC) has hailed Budget 2014 as one of the most transformative budgets that will facilitate continued...