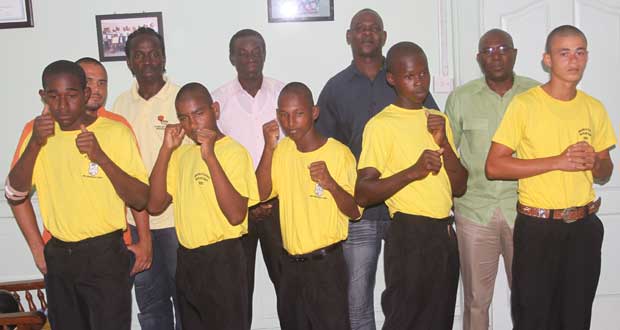 … welcomes back NOC into competition
MINISTER of Culture, Youth and Sport Dr Frank Anthony had challenged the Steve Ninvalle-steward Guyana Boxing Association (GBA) to decentralise the sport of amateur boxing in Guyana, and, not known to refuse a challenge, Ninvalle and his executives responded.
Come tomorrow night from 19:00hrs, the GBA will be hosting this year's edition of its Novices championship, which is being held in collaboration with the National Sports Commission and is dubbed 'Nuff Cuff Injection', at the East Ruimveldt Community Centre known as California Square.
It is during these championships, boxing fans and enthusiasts will see the return of pugilists from the New Opportunity Corps (NOC) to the family of amateur boxing – a move Ninvalle highlighted as exciting and wonderful for the GBA family.
"We at the GBA wish to welcome back the NOC into our family of amateur boxing and we wish to use this as an opportunity to let persons know that boxing is a sport that can be used to rehabilitate persons within our society," said Ninvalle.
He pointed out that five boxers from the Essequibo-based correctional facility, namely Andrew Newton, Niko Jodha, Kalvin Barry, Joel Bess and Samuel Forde, were all under the tutelage of national boxing coach Wincell Thomas, who said the boxers are ready and raring to have a go tomorrow night.
"The NOC over the years has produced many national champions. Prominent trainers, including Lennox Daniels and former FECARBOX champion Michael Benjamin, frequented the NOC and passed on their ideas of the sport to those who were willing to listen.
"Our hope is to make sure the NOC remains within the GBA and after competing in the Novices, they can be in the Intermediate and later National Open championships and, come next year, we will ensure they are much better prepared" said Ninvalle.
In response to Dr Anthony's challenge which they are heeding, Ninvalle said the GBA is also looking to take the sport to the Cinderella County, adding that the officials are looking at the possibility of hosting their Intermediate Championships there. Thomas disclosed that a number of females within the NOC have shown much interest in the sport.
Lawrence Kellman, who, along with Brandon Caboose accompanied the five boxers to the City, said he has been working with them on their physical aspect and he knows they are enthusiastic about competing successfully in the Novices Championships.
In his brief remarks, Technical Director of the GBA, Terrence Poole, said the governing body would be breaking new ground, with the hosting of the Novices championship in an area that has never seen boxing of any nature, calling it an historical one.
The weigh-in will occur at the Andrew 'Six Heads' Lewis gym from 17:00hrs this afternoon, while the two nights of action will see close to 60 boxers from across Guyana including Linden, Berbice, Essequibo, do battle in four different categories namely, Females, Youth (15-16), Juniors (17-18) and Elite.
(By Calvin Roberts)