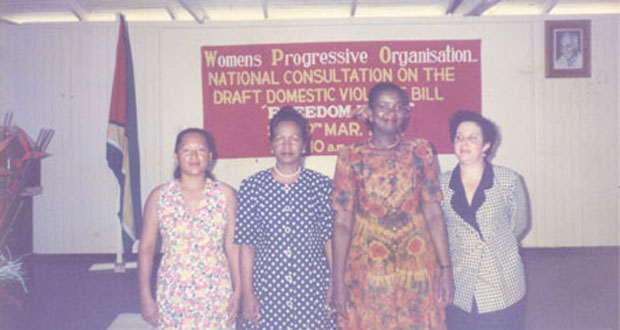 MEET the woman who grew up with the confidence that she was never a second-class person but was equal to anyone else. This confidence is what motivated her throughout her life. She believes in equality and is never afraid to make known her opinion, be it right or wrong.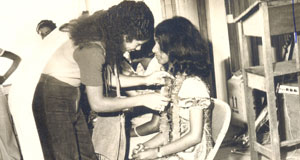 Indranie Chandarpal, popularly known as Indra, 62, grew up in Haslington which at the time was a part of the Enmore Estate on the East Coast Demerara. After the Neighbourhood Democratic Councils were organised, though, the village, located some 16 miles from Georgetown, became one by itself.
Born to parents Dhanraj and Ramdai, Indra was one of ten children. The family thoroughly enjoyed living in Haslington and though unlettered, their father did his best to instill in them certain values, spiritual and moral.
Her father believed in equality and urged the children to speak up for whatever they believed in. Throughout her interview with the Chronicle a few days ago, Indra credited her father for much of what she has become in life today.
"I grew up as someone understanding hunger; know what it means not to have. I am a self-made person. I am not afraid to take positions, to speak up for what I believe in. I may have made a few enemies by that attitude but I am very comfortable with that. I don't lose sleep over who likes me and who doesn't like me. I have to do what I have to do."
"I don't like to be a follower. I believe I am entitled to my own point of view, whether it is right or wrong. I don't like people forcing their opinions on me. I like to think it out and I must be able to come up with my own version of what I think is right or wrong," she said.
Political Life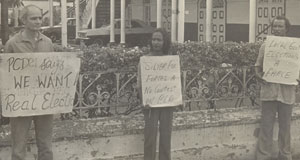 Indra practically grew up in the People's Progressive Party (PPP) and became involved in politics at a very early age. She vividly recalls that in 1957 when the PPP won the elections, she was just aged six but was helping to decorate the streets for them.
At about 13 years old, she was tear-gassed in a picket line by the Guyana Agricultural Workers Union (GAWU). She was supposed to be in school but she became curious when she saw the PPP protest and joined the line.
Indra joined the Progressive Youth Organisation (PYO) when she was 18 and by 20 years old, she became involved in the women's movement and in the party. By 1972, she started working at Freedom House as a receptionist/typist.
By this time, late President Cheddi Jagan though overseas training in politics would do Indra well and so he recommended it to the Education Secretary. Indra went abroad to study political science and she also did a three-month course in journalism.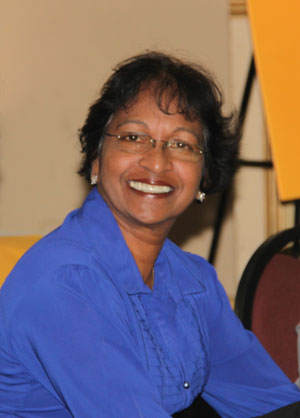 She worked in the party's bookshop when she returned and later became the coordinator for the Women's Progressive Organisation (WPO).
But things did not always go smoothly during her political life. According to her, she had to endure several harsh conditions under the then People's National Congress (PNC), including several instances of beatings.
She recalled the time she was jailed for one week in the New Amsterdam Prison. It was elections time and the PNC was going to have a public meeting in Enmore.
"They had never done anything for us. I was the secretary of the youth group at the time so we said we don't want them to come there and we organised a whole basket of rotten eggs and we threw all the eggs where they were going to have the meeting. As they came and were trying to cross the bridge, Me and some other ladies lie down on the bridge to prevent them." "Somebody tried to hit us and the pandemonium broke out. "There was a lot of licks both sides," she related.
That night, officers went and dragged her and three sisters away from their home to join the other 53 that were arrested. So they appeared in court the next day and Indra and one of her sisters were sentenced to a week in jail.
But Indra doesn't regret one bit of it. In fact, she said if she had to live her life all over again, she would probably do the exact things she has done so far. She loved the PPP and devoted her life to the party. "Cheddi is my hero. Even in death, he still remains my hero. If he had wanted my life, I would have gladly given my life for him because that's how much I respect him."
She recalled that Dr Jagan never received permission to hold his political meetings and so had to make use of the sea dams and graveyards.
Notwithstanding the ills that have been spoken of about the PPP in recent times, Indra said she will always remain loyal to the party. "I have had the opportunity to live under the British, under the PNC and the PPP. I know that the PPP can do well for this country and I know they have made a difference."
Indra is currently the President of the WPO, Chairperson for the Women and Gender Equality Commission, and a Member of Parliament, among many other portfolios in the including junior Minister of Housing and Water and Minister of Human Services and Social Security.
Better Lives
Growing up, Indra always knew in her heart that her family's living conditions would improve. "I used to tell my sisters that one day things will change. Somehow I believed that things will become better."
She recalled that there was just a street and a trench that separated her family's house from where the Enmore Estate managers lived. Her family lived on a mud dam and so there was no running water or electricity. Thus, when it rained, Indra and her family would have to traverse the mud, walk over a trench where the pipe was, and literally lift it up to draw the water.
"I used to be angry because when I looked over, I saw that the managers had everything. So I thought something was wrong with us. Somehow I felt there was something wrong about the conditions under which we were living."
She was a great reader, though, and at age 13, she recalls reading the biography of Abraham Lincoln and was touched to know that there were actually people who fought against slavery, poverty and the like.
This and other books gave her the confidence that things will not always remain the same for her and her family.
"I had the opportunity to migrate three times but I chose not to because I love my country and I wanted to stay here. All of my siblings and my parents left the country. I was the only one here and still I was not influenced to go because somehow I believed in Dr Jagan and the PPP and I knew a day will come when our lives would be better."
Indra is married to Mr. Navindranauth Chandrapal whom she described as one of the nicest and most decent men that is alive today. Their two children are Rabindranauth and Gitanjali.
By Telesha Ramnarine