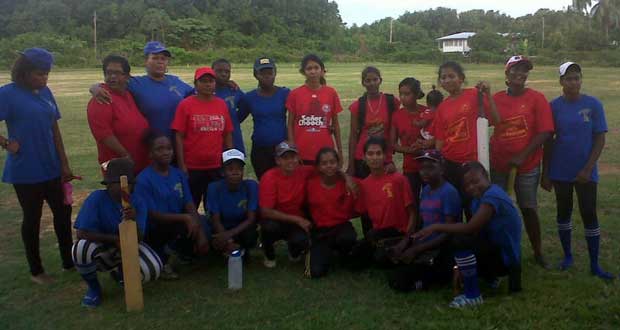 FOR THE past four years, Attorney-at-Law and former Magistrate at the Blairmont Magistrate Court, Tagenarine Ramroop, has been organising several softball matches for male and female teams within the Blairmont Community.
And so last Monday, Ramroop organised matches in this year's edition, where the Blairmont Settlement female team came out on top over their Ithaca counterparts, while Number Four Settlement and Ithaca defeated Number One Settlement and Number Two Settlement respectively in the male category.
Number Four Settlement won the toss and invited Number One Settlement to take first strike, limiting them to 59 for 5 off their 10 overs, with Karamdat Bissoondial topscoring with 14, as L. Tajeram took 2 for 12 for Number Four Settlement, who in reply reached 60 for 1 in six overs, thanks to V. Farad's unbeaten 30 and 15 from G. Maloo.
Following that clash was the fixture between Number Two Settlement and Ithaca Village in another male matchup at the same venue. Number Two Settlement, who won the toss and chose to bat first, scored 94 for 9 from their 10 overs, led by 48 from L. Singh and 15 from R. Ramcharran.
F. Anthony and Leslie Amsterdam took 2 wickets each for 10 and 15 runs respectively for Ithaca, who in reply scored 99 for 6 from 9.2 overs, led by 33 from R. Amsterdam and 14 from R. Edwards, handing their team the victory by six wickets.
Up next was the clash between Blairmont Settlement Girls and their counterparts from Ithaca Village, with the latter winning the toss and asking the former to take first strike.
Blairmont Settlement Girls obliged and chalked up 74 for 9 from their 10 overs, led by 12 each from L. Haniff and S. Kudrattullah, even as T. Weekes, L. Amsterdam and J. Wood took two wickets each for 5, 10 and 12 runs respectively for Ithaca Girls.
Despite a herculean effort from Weekes who returned with the bat to hit a top score of 39, supported by O. Felix's 10, Ithaca Girls fell five short of the target, ending on 74 for 2 when their 10 overs expired, as Blairmont Settlement Girls fielded well to come away with the win.
Trophies and cash prizes were distributed to the various winners by Ramroop, who promised to make next year's tournament much bigger and better.