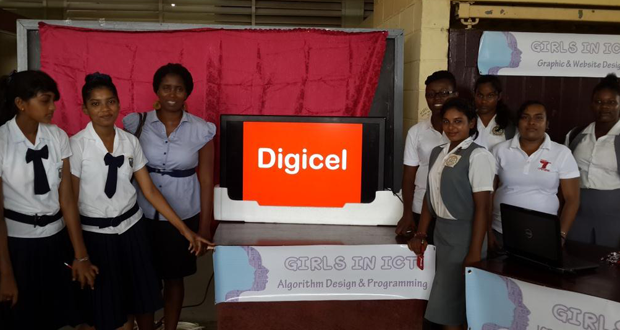 DIGICEL Guyana was invited to participate in the events and activities leading up to 'Girls in Information and Communication Technology (ICT) Day', celebrated in Berbice and Linden on the third Thursday in April.
Information and Communication Technology (ICT) is a global effort being spearheaded by the International Telecommunications Union (ITU) to raise awareness of the need for more women to become involved in the ICT sector worldwide.
In Guyana, efforts are organized by the National Frequency Management Unit (NFMU); and, as a local telecommunications giant,
Digicel, along with other companies from the private sector and the NFMU, participated in two tech day camps in Berbice and Linden on April 8th & 9th respectively.
Ms. Adellie Lee, IT application specialist; Ms. Deepa Rohit, Quality Assurance Trainer, CC Tech; and Ms. Phoebe Joseph, Project Officer (Technical) made presentations to the girls. More than five hundred (500) girls from 15 schools within the two regions attended these tech day camps, and were enlightened by several female presenters from the ICT sector in Guyana.
At the camps, the girls were given prizes for asking and answering questions correctly at Digicel's booth. One of the girls, Ramona Smart, a student from Berbice, in an invited comment, mentioned to Digicel how she felt about the tech day camps: "Today I learnt a lot about ICT; it was a great experience for me. I thought today would be very boring, but I'm really glad I came. I had so much fun, and I think (that) after today I will pursue a career in ICT."
Girls in ICT Day will be observed on April 24th, 2014 under the theme "Expanding horizons, changing minds", and it presents opportunity for girls and young women to get inspired about the ICT sector by listening to women role models in ICT.
Digicel Guyana is proud to be part of this initiative and, through the National Frequency Management Unit, pledges its continued support to Girls in ICT Day.