–stages school tour to start awareness drive
WERE there an award for being one of the most industrious beauty queens Guyana has ever seen, reigning Miss World Guyana and former Miss Guyana Universe 2012, Ruqayyah Boyer, would win that award by a landslide. 
She has recently taken to championing a new project against domestic violence and bullying, and has toured schools to promote the project.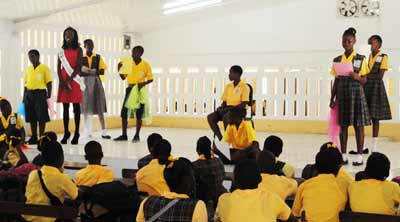 The Miss World top 33 beach beauty and talent segment semi-finalist is the current face of Guyana. Last August, she was awarded by the City Council of New York for her campaign against domestic violence and bullying, and she has now taken to visiting secondary schools across the country to educate students about these two very pressing issues that are affecting the lives of many Guyanese citizens. She started her campaign in the capital city of Georgetown, and her aim is to visit most, if not all, of these educational institutions.
Queen Ruqayyah has recently undertaken a new project, a domestic violence and bullying school tour. Throughout her reign, Guyana's beauty ambassador has been engaging in numerous activities and ventures to promote this platform, not just in Guyana, but in the wider Caribbean and the United States. Boyer has now taken on the new task of inspiring young students across the country and highlighting within their schools two major issues that have been plaguing our dear land of Guyana — domestic violence and bullying.
Only last Christmas, the queen was caught conducting a Christmas toy drive, and now Boyer, who has been appearing in several recent music videos, can be seen hosting the nation's new reality runway show, "Guyana's Newest Top Model", a radio programme ONDABLOC on 100.1Fresh FM every Saturday.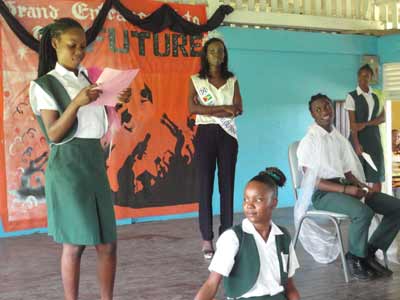 The beauty ambassador has said that the schools tour was an activity on her to-do list since being crowned Miss Guyana Universe back in 2012. She did manage to conduct 'The Flight of Phoenix' march against domestic violence, but her absence abroad for long periods during her reign caused her to be unable to carry out the exercise. She said that, with her Miss World crown, she was given a second chance, and had every intention of taking full advantage of that opportunity.
Boyer noted that during the year 2013 and what has so far been seen of 2014, the country has experienced a rise in the number of domestic violence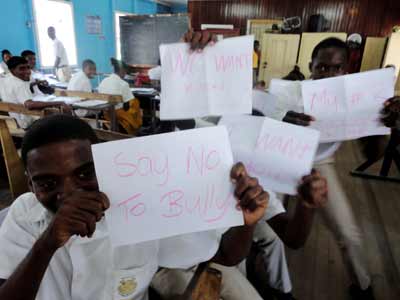 cases, and she believes that one way we as a nation can help combat that issue is by targeting the students in schools, since bullying is an issue and is a precursor to domestic violence. Nevertheless, she is convinced that, through her sessions and the continued efforts of others, change can come about.
"I recall (that) before heading off to the Miss World pageant in Indonesia, I was touring Trinidad & Tobago with the CADVA organization, carrying out workshops on the same issue. However, I would read the news online in Guyana and notice that, within one week, there were several reported cases of domestic violence plastered in the news every day, and it tore my heart apart to see the cruel acts of abuse our own people were imposing upon each other. So I made a vow to myself that when I returned to Guyana, win or lose, I was going to do something that I believed could contribute seriously to changing the mindset of the younger generation as it relates to the plague of violence flagging our country."
'The school tour' of the reigning Miss World commenced on March 12 and concludes on March 20. Schools already visited include the East, South, & North Ruimveldt Secondary; the Tucville, Brickdam, North Georgetown, Charlestown and Richard Ishmael Secondary; and the Central , St Joseph, and Tutorial High schools. Boyer is aiming to visit 30 schools in Georgetown, and plans to continue the school tour in Linden in the month of April.
(By Alex Wayne)