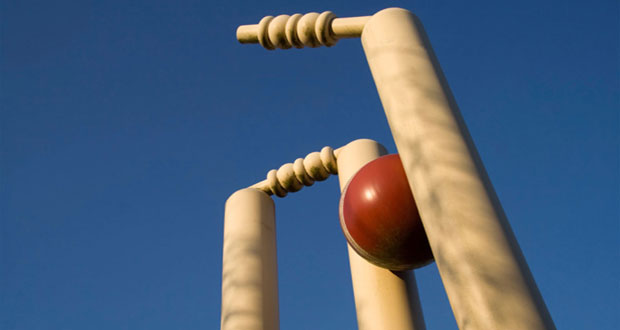 ASKED to score 231 to record a come-from-behind victory after Devendra Bishoo claimed his 10th five-wicket haul at the first class level to bowl Barbados out for 186, hosts Guyana put on another pathetic batting display in the face of some disciplined bowling to be all out for 94.This meant they lost their second round West Indies Cricket Board Regional four-day match at the Guyana National Stadium, last night by 136 runs inside three days, as Carlos Brathwaite (4 for 35) and Ashley Nurse (3 for 39) and Sulieman Benn 2 for 8 bowled their side to victory.
Scores in the match: Barbados 184 and 186, Guyana 140 and 94.
Barbados resumed on 116 for 4 with Kevin Stoute and Shane Dowrich on 15 and 9 respectively, but lost both batsmen on the stroke of the first hour of play, after they added 13 and 14 to their overnight scores.
Stoute was caught by Christopher Barnwell at slip off Bishoo, while Dowrich edged one to Anthony Bramble off Veerasammy Permaul (2 for 54), with both wickets falling at 146.
Shortly after, Nurse (02) picked out Keon Joseph at mid-off, also off Bishoo while Assad Fudadin dived forward at forward short leg to take a chance from Carlos Brathwaite off Permaul.
The Guyanese mopped up the visitors' innings 24 minutes before the dinner break, as Bishoo removed Tino Best (02) and Benn 20 (4×4, 16 balls), finishing with 5 for 71, leaving Miguel Cummins unbeaten on 5.
The Guyanese openers in Tagenarine Chanderpaul and Sewnarine Chattergoon (09) safely negotiated the three overs prior to the lunch interval and after the break, both openers got boundaries off Best and Nurse.
Chattergoon was bowled by Carlos Brathwaite in the 11th over at 22 for 1 and at the end of the first hour's play, Guyana had moved to 38 without further loss, with Assad Fudadin who got boundaries off Nurse and Carlos Brathwaite on 12 and Chanderpaul 14.
Carlos Brathwaite removed Fudadin (12, 2×4) and Narsingh Deonarine (0) off successive deliveries, with Deonarine falling for a 'golden pair', which was also the third time he failed to score in four innings for this tournament, while Vishal Singh (1) failed to beat Jonathan Carter's throw from point.
From 22 without loss, Guyana were shakily placed on 43 for 6 as Barnwell (4) edged one through to Dowrich, while Chanderpaul's long vigil came to an end when he was lbw to Nurse for 14 (72 balls, 2×4).
The 50 was posted from 30 overs with Bishoo 3 and Anthony Bramble 5, but Carter took a low catch at gully to remove Bishoo and at tea, Guyana were 55 for 7, with Permaul 1 and Bramble 7.
A hat-trick of fours by Permaul off Carlos Brathwaite, coupled with a six back over the said bowler's head by Bramble 21 (38 balls, 1×4, 1×6) pushed Guyana to 81 before Bramble picked out Carlos Brathwaite at mid-off, when he looked to hit Nurse over that area.
Barbados' Kraigg Brathwaite brought on Benn, Guyana's first-innings destroyer into the attack, but Permaul continued to show resistance, hitting the lanky left-arm spinner for two fours in his first over.
Benn trapped Permaul lbw in his next over, while the visitors wrapped up the win, their first of this year's tournament when Joseph (3) hit one back to Benn at 20:28hrs, leaving Raun Johnson unbeaten on 1.
SCORECARD
BARBADOS first innings 184
Guyana 1st innings (140)
BARBADOS 2nd innings (o/n 116 for 4)
K. Stoute c Barnwell b Bishoo 28
S. Dowrich c Bramble b Permaul 23
C. Brathwaite c Fudadin b Permaul 9
A. Nurse c Joseph b Bishoo 2
T. Best c Permaul b Bishoo 2
M. Cummins not out 2
S. Benn b Bishoo 20
Extras: (b-6, nb-1) 7
Total: (all out, off 75 overs) 186
Fall of wickets: 1-12, 2-61, 3-90, 4-100, 5-146, 6-146, 7-159, 8-160, 9-164.
Bowling: Joseph 11-5-15-1 (nb-1) Johnson 6-1-18-1 Permaul 26-6-54-2 Deonarine 10-3-20-1 Bishoo 21-6-71-5 Chattergoon 1-0-2-0
GUYANA second innings
S. Chattergoon b C. Brathwaite 9
T. Chanderpaul lbw b Nurse 14
A. Fudadin lbw b C. Brathwaite 12
N. Deonarine b C. Brathwaite 0
V. Singh run-out (Carter) 1
C. Barnwell c Dowrich b C. Brathwaite 4
A. Bramble c C. Brathwaite b Nurse 21
D. Bishoo c Carter b Nurse 3
V. Permaul lbw b Benn 21
K. Joseph c & b Benn 3
R. Johnson not out 1
Extras: (nb-1, b-3, lb-1) 5
Total: (all out, off 42.3 overs) 94
Fall of wickets: 1-22, 2-38, 3-38, 39-4, 5-43, 6-43, 7-53, 8-81, 9-89.
Bowling: Best 5-3-8-0 Nurse 20-8-39-3 (1nb-1), C. Brathwaite 15-7-35-4 Benn 2.3-1-8-2.
Written By Calvin Roberts