 Though he did not possess a Herculean acting talent by any stretch, handsome bodybuilder Steve Reeves certainly had an enviable Herculean physique, and made plenty good use of it in Europe during the late 1950s and early 1960s portraying some of filmdom's most famous bronzed gods. Reeves was originally a Montana boy born on a cattle ranch in 1926.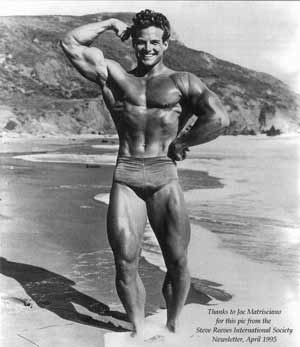 His destiny was revealed early in the game when, at the age of six months, he won his first fitness title as "Healthiest Baby of Valley County." His father Lester died in a farming accident when Steve was just a boy, and his family moved to Oakland (California). He first developed an interest in bodybuilding while in high school.
Steve joined the Army in his late teens where his job was loading boxcars and trucks. He also worked out loyally at the gym during his free time and the combination helped develop his body quite rapidly. Following Army service (he served for a time in the Pacific), he decided to pursue bodybuilding professionally. In 1946, at the age of 20, he won "Mr. Pacific Coast" in Oregon, which led to his titles of "Mr. Western America" (1947), Mr. America" (1947), "Mr. World" (1948) and, ultimately, "Mr. Universe" (1950).
With all the body-worshiping publicity he garnered, he decided to travel to New York to study and pursue acting. He subsequently returned to California…and Hollywood. There were not huge opportunities for a muscleman in Tinseltown other than providing pectoral background. Steve was, however, considered for the lead role in Cecil B. DeMille's biblical costumer Samson and Delilah (1949), but refused when told by the legendary director he would have to lose some of his musculature (about 15 lbs.). The part instead went to Victor Mature. Steve did manage to snag the role of a detective in infamous director Edward D. Wood Jr.'s Jail Bait (1954). Small parts on TV also came his way, but they too were mostly posing bits or walk-ons. To the Hollywood power players, Steve was just a body. Whether he could act or not was not a concern or selling point. Fans just wanted to see him take his shirt off.
Down on his luck, Steve's fortunes change when Italian film director Pietro Francisci saw him play Jane Powell's boyfriend in the feature film Athena (1954) and persuaded him to go overseas to star in Hercules (1958) (US title: "Hercules"). Though critics dismissed the film as "muddled mythology" while denigrating its cheapjack production values (including a poorly-dubbed sound track), the public went crazy over the sword-and-sandal epic and, in particular, Steve's marvelous beefcake heroics. He became an "overnight" star. Sequels followed-none any better or worse, with him going through the paces as a number absurdly-muscled biblical and mythological figures. An able horseman, he also performed many of his own stunts. Moreover, he paved the way for other pumped-up acting hopefuls (Ed Fury, Mark Forest, Reg Park) to seek their fame and fortune in Italy as a feature-length Samson, Ursus or Colossus. Nobody, however, came close to topping Steve in popularity.
A shoulder injury forced Steve's retirement, spending the remainder of his life promoting steroid-free bodybuilding while living on a ranch and breeding horses. The more recent bodybuilders of fame such as Arnold Schwarzenegger and Lou Ferrigno, both Hercules impersonators of yore, have given Steve significant credit for their respective acting successes. Married twice, Steve died in Southern California of lymphoma on May 1, 2000, at age 74.
Steve Reeves is regarded by many as the greatest bodybuilder of all time for his legendary symmetrical physique, visionary bodybuilding techniques, dedication and love for the sport through which he won five bodybuilding titles between 1946 and 1950. His peak measurements were: 6'1″ at 216 lbs. with 18½" arms, 52″ chest, and a 29″ waist, partly depicting his creation: "The Classic Physique."
Steve Reeves was born in Montana in 1926, yet by age 10 moved to Oakland, California where he first became captivated with the art of bodybuilding at age 16, placing pioneer John Grimek as his top role model. After two years of bodybuilding Steve's body weight reached 203 lbs by high school graduation, but was he then inducted into the Army. He was assigned to Company A of the 25th Division and was sent to the front lines in the Philippines where he endured to continue his bodybuilding training, becoming known as "The Shape" among his fellow GIs. After WWII had ended he was part of the occupational forces sent to Japan and was stationed there from September 1945 to September 1946. After his service ended, he entered and won several bodybuilding championships becoming: "Mr. Pacific Coast" (1946), "Mr. Western America" (1947), "Mr. America" (1947), "Mr. World" (1948) and "Mr. Universe" (1950) announcing his retirement from bodybuilding competition that very night after he won.
From that point onward Reeves set his sights on the silver screen as well as the small screen. He made several appearances on variety shows of the early-to-mid 1950s and non-starring roles during 1954 in two films: Athena (1954) starring Debbie Reynolds and Ed Wood's Jail Bait (1954). In 1957, he had been called to Italy to play the lead role Hercules in "Le Fatiche di Ercole" which was filmed during the summer and autumn of 1957 with a USA premiere in 1959. The tremendous worldwide success of "Hercules," (the USA title), led to a sequel and many other Italian epic films many based on heroes played by Reeves. These roles included Romulus, Phillipides, Captain Henry Morgan, Glaucus, and Sandokan. With 20 film/TV acting credits to his name by 1968, Steve Reeves retired from film and returned to California to live on his ranch, remaining committed to his lifelong belief in natural, drug-free bodybuilding through his writings and personal appearances. Steve Reeves has served as a great inspiration to many bodybuilders such as Sylvester Stallone and Lou Ferrigno, and millions of others the world over for all that he was: a genuine hero, a true man, an authentic gentleman, the first (and to many fans the only true) Hercules, and nothing less than the greatest bodybuilder of all time.
– IMDb Mini Biography By: CL Candela
Spouse (2)
Aline Czartjarwicz
(24 June 1963 – 24 July 1989) (her death)
Sandra Smith
(31 January 1955 – 4 September 1956) (divorced)
Trivia (29)
His wife, Aline, died of complications from a stroke in 1989. He wrote "Building the Classical Physique — The Natural Way". Through his Steve Reeves International Society Web site, he promoted supplements and powders with natural ingredients. He moved to Oakland with his family as a child and began lifting weights when he was 16 years old.
Mr. Universe 1950
Mr. America 1947.
Mentioned in the song "Sweet Transvestite" from the film The Rocky Horror Picture Show (1975).
At the peak of his bodybuilding career at age 23, he was 6′ 1″, 200 pounds, with a chest measuring 48 inches, a 29-inch waist, and had 17 1/2-inch biceps.
Such bodybuilders such as Arnold Schwarzenegger, Lou Ferrigno and David Prowse have credited Reeves as a role model for the bodybuilding world.
Often confused with, and is not related to, George Reeves, who played Superman on TV in the 1950s. While working on a studio next to the set where the Superman series was filmed, producers once threatened to fire George after an argument and replace him with Steve.
In 1949 director Cecil B. DeMille considered (and came very close) casting Reeves as Samson in Samson and Delilah (1949) after Burt Lancaster proved unavailable. Although DeMille liked Reeves and thought he was perfect for the role, a dispute between Reeves and the studio over his physique forced DeMille to recast the role of Samson with Victor Mature. After becoming popular in the late 1950s and 1960s, Reeves turned down the roles of James Bond in Dr. No (1962) and the Man With No Name in A Fistful of Dollars (1964).
He loved horses and was a great rider himself. Italian producers later found that to be an advantage, since Reeves usually did his own stunts in his films and they didn't have to hire a horse riding double for him. After retiring from films due to a shoulder injury, Reeves bought a ranch and took up breeding horses professionally.
He was a friend of "Tarzan" actor Gordon Scott, and recommended him for the role of Remus in Duel of the Titans (1961). The producers originally wanted Reeves to play both Romulus and Remus through some doubling, but Reeves convinced them that it would be more effective to have another actor playing Remus.
His voice was dubbed in his Italian epics. The only films where his real voice is heard are Jail Bait (1954) and Athena (1954).
His entire bodybuilding career consisted of 8 contests.
His mother was a nutritionist.
He survived numerous life-threatening experiences as a child, including being hit by a car and dragged, being thrown from a horse and sleeping through an earthquake as a child in Montana. When he couldn't be accounted for, family members found him sound asleep, his bedroom teetering on the brink of a three-story fall.
It took him 4 weeks to get into contest shape for his Mr. America victory.
Was of Welsh, Irish, English and German descent
Served in the Philippines during WWII, contracted malaria, and served his remaining time under Gen. Douglas MacArthur during the occupation of Japan.
Prior to its release, Ridley Scott's Gladiator (2000) was being referred to by some writers as the first "Steve Reeves type" movie in decades. It had also been written that Scott was amiss in not getting Reeves to at least do a cameo. Sadly, Reeves died on the very day that "Gladiator" premiered..
While filming The Last Days of Pompeii (1959) (a remake of The Last Days of Pompeii (1935)), the chariot he was driving struck a tree and he dislocated his shoulder. This put an end to his more intense exercise routines and caused problems in the following years.
He was reportedly diagnosed with lymphoma only six weeks prior to this death.
He was played by Michael J. Nelson in the episode of Mystery Science Theater 3000 (1988) that showed his film Hercules Unchained (1959).
He often criticized the use of steroids in bodybuilding because he felt that it undermined the health value and the challenge of bodybuilding as a sport. He once remarked, "Body builders used to come in all shapes and sizes. Now they all look like Arnold [Schwarzenegger]."
Almost paradoxically, Reeves' impressive physique prompted filmmakers to put him into a variety of "bondage" situations. Two such situations are cited in the book: "Lash! The Hundred Greatest Scenes of Men Being Whipped in the Movies." Ranking 7th is Reeves' flogging in Duel of the Titans (1961) and ranking 24th is his flogging in The White Warrior (1959).
Though proud of his work as Hercules, he was always disappointed that his other films did not receive much recognition. He once remarked "I only did two Hercules films, but everyone seems to think I did ten."
Took up power walking (which combined swinging hand held weights in both hands while walking) in order to compensate for the damage done to him by his shoulder injury.
He was the undisputed king of the European produced sword and sandal/mythological muscleman epics. Although he became an international sensation, the core of his film career lasted only 5 years (1958-1963)and a staggering 15 epic productions during that period. Afterward, he made another "Sandokan" feature and attempted a film in the next big Italian film craze, the spaghetti western, before retiring from the screen.
Is credited by Sylvester STallone for inspiring Stallone to work out and build up his body and later became friends with Reeves after he became famous.
Was offered a third Hercules film after "Hercules Unchained" but declined in favor of pursuing other roles.
Summer 1948, at Cannes, France, won the title of "Le plus bel homme du monde". This was documented in a French b&w short film with cinematography by Raymond Clunie and Georges Zaidler, with René Charrois as assistant camera operator and Jacques Verillon as technical consultant.
Personal Quotes (1)
Filmmaking in Europe was a little different from working in the United States. There's a scene in 'Hercules' where I'm in chains — they looked like steel, but they were actually made of wood — and I had to swing these chains at my supposed enemies who were advancing towards me. Well, I didn't want to really strike someone so I kind of held back with my motions. The director yelled, 'Swing those chains! Swing them hard!' I said, 'I don't want to hurt someone.' And the director yelled back, 'If they don't get hurt, they don't get paid!'