RESIDENTS and businesses located along the parade route from Lower Church Street en route to the National Park, and especially on the periphery of Queenstown, (Church, Irving and Vlissengen Roads), woke up yesterday morning to a massively litter-infested environment, brought on through the usual vending and picnicking activities on Mash Day.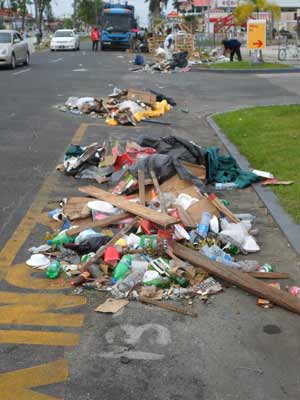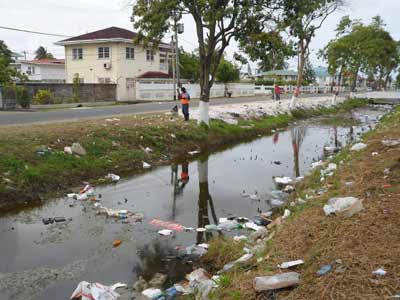 It was appalling to behold the amount of solid waste that residents, motor vehicles and patrons had to navigate, in order to gain access to the two nearby gas stations, the state- owned Guyana National Newspapers Ltd, taxi services; restaurants and fast food establishments.
In some instances there was an accumulation of crushed bottles in front of one of the gas stations – quite hazardous to motorists having to traverse the path.
Even though, understandably, the area used for Mash activities on Sunday would have been littered, concerned citizens contend that it is expected that systems would have been put in place to have the sanitation gangs report early for work and so get the streets cleaned up at least by 09:00hrs.
But far from it, Irving Street and Vlissengen Road remained littered throughout the day on Monday, and it was not until around 15:00 hrs or so, that one single garbage truck and a few labourers began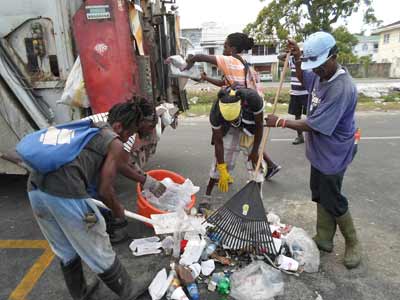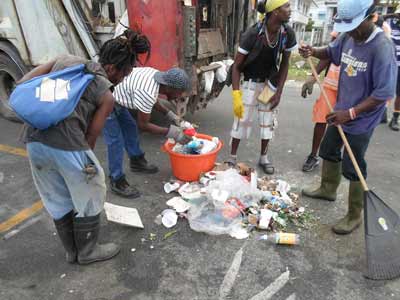 working to free the space of litter. But given the volume of solid waste, the limited labour force and the abysmal lack of proper occupational health and safety tools, it was impossible for them to make any significant difference within the remaining three hours before night would have stepped in.
Asked why they did not begin working earlier, Waste Management Officer Travis Kellman insisted that they had begun working at 05:00 hrs Monday morning. The workforce comprised about 43 men, he said, who worked along Camp Street, Church Street and East Street, before showing up at Irving Street.
But from this newspaper's vantage point on Irving Street, only about ten to 12 men were spotted. Worse still, only about five of them wore gloves. The others were forced to perform the job – scooping up litter which included broken Heinekin bottles, with their bare hands. Kellman said they had requisitioned gloves to do the job, but the gloves have not yet been received.
And asked whether he felt there was need for additional labourers, he said it would help if citizens could volunteer to help them in the clean- up exercise. Kellman said that earlier in the day, a few citizens had come out and given them a hand. But citizens are incensed about being exposed to the litter throughout the day, adding that it's a burning shame that City Hall, even after having increased the fees demanded for food and beverage booths along the parade routes, adequate manpower and resources still were not provided to get the job done properly.
(By Shirley Thomas)