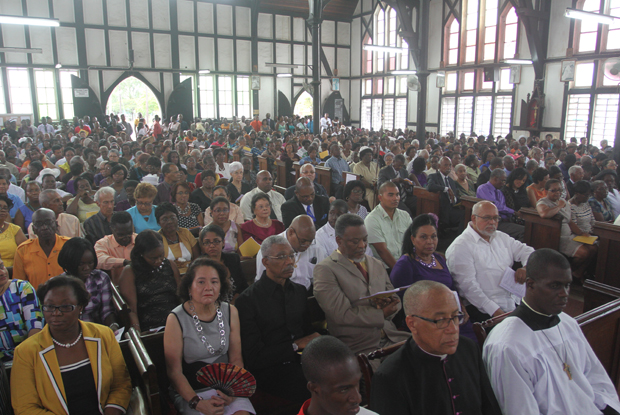 THREE Reverends and one Venerable were yesterday installed to higher positions within the Diocese of Guyana.
Held at the world-renowned St. George's Cathedral, the installation ceremony saw hundreds in attendance, including President Donald Ramotar and Prime Minister Samuel Hinds.
Those installed were: The very Reverend Paul Andrew Carto, as Dean of Georgetown and Rector of the St. George's Cathedral; The Venerable Terry Nathaniel Davis, as Senior Archdeacon; The Reverend Clifton Ashton Elias, as Canon to the Stall of St. David; and The Reverend Jerrick Fitzgerald Rayside, as Honorary Canon.
Each member was sworn in by oath to execute their given responsibilities with diligence, and preserve not only the titles of their positions, but moreso their religion.
Given food for thought, the congregation was entertained by the St. George's Cathedral Choir, whose lusty singing was followed by the Word, ministered by The Venerable I. Ranfurly Brown, L.Th., M.Ed., Rector of St. Agnes' Parish in New Providence,The Bahamas, & Archdeacon of the West Central Bahamas Archdeaconry.
After the ceremony, a reception was held at the Roof Garden of the Bank of Guyana, where all were invited to partake in this memorable occasion and celebrate the achievements of their fellow brethren in The Faith.
The Anglican Diocese of Guyana is one of eight within the Province of the West Indies. Its cathedral is St. George's Cathedral in Georgetown. The diocese came into being on 24 August 1842 when William Piercy Austin was consecrated as the first bishop. The current bishop is the Right Reverend Cornell Jerome Moss.
Written By Ravin Singh