(Compliments of Ansa McAl, Regal Stationery, Wartsilla, Romaine Car Wash, F&H Printing, Berbice River Bridge and GT&T)
"I WOULD just hope that Sarwan can come to the party. I think this tournament would be a decisive one for Ramnaresh Sarwan and the West Indies still need Sarwan, but Sarwan needs to be the Sarwan we know of old. His commitment to date has been good and we are looking forward for him to do well."Those were the words of Malta Supreme Guyana team manager Alvin Johnson, in the early days of the team's encampment and preparation period for the West Indies Cricket Board/NAGICO Super50 tournament which is presently being played in Trinidad and Tobago.
Asked to comment on Alvin Johnson's statement during a net session at the Everest Cricket Club ground, the 33 year- old Ramnaresh Sarwan, who has to date played 215 first class matches where he has scored 13, 221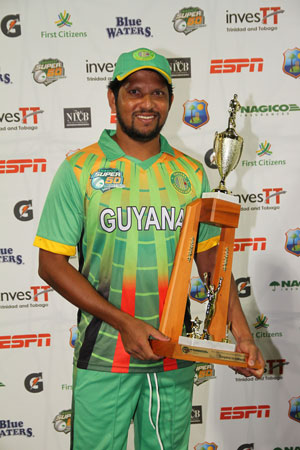 runs at an average of 39.11 with 33 tons said, "As long as I am playing I still think I have a chance of representing the West Indies and the people of this country and that is my ultimate goal."
Represent he did and in fine style too, as the former Guyana and West Indies skipper rolled back the years when he earned the tag of 'World's Best Finisher', by blasting an authoritative and unbeaten 62 balls 89 against Ireland in Guyana's mammoth 301 for 3, an innings that was decorated with 10 fours and four sixes.
That innings was preceded by a foundation of 129 for the first wicket between Shivnarine Chanderpaul and Trevon Griffith, who both made half centuries, while skipper Christopher Barnwell and Leon Johnson also chipped in with robust innings of their own.
"Of course we had a wonderful start from Shiv and young Griffith, so it was just a matter of trying to continue with the momentum, even though we did not have the kind of Power Play that we wanted, as we lost Shiv during that period" said Sarwan in an invited comment after picking up the Man- of- the- Match award.
He added, "Barnwell and myself gained some momentum coming out of the Power Play and we were able to ignite, while young Leon Johnson came to the wicket when Barnwell was dismissed and played pretty well for the team."
Kevin O'Brien, who ended with 3 for 56, removed Chanderpaul with his final delivery of the first over in the second Power Play that Sarwan referred to, only for Sarwan and Barnwell to add 65 for the third wicket from 6 overs, at a strike rate of 10.50 runs per over.
When Barnwell was dismissed in the 44th over-43.3 overs to be exact, Sarwan and Leon Johnson joined forces to add 76 valuable runs from the remaining 6.3 overs, pushing Malta Supreme Guyana to their eventual total, which in itself is the highest Regional List A score at the Queen's Park Oval.
That total surpassed Jamaica's 282 for 5 made against defending champions, and Guyana's next opponents Windward Islands, on the opening day of the tournament, on a day when the Queen's Park Oval was hosting its 100 List A fixture.
Reflecting on his innings, Sarwan said, "The situation called for someone to try and accelerate the total and fortunately for me today, the shots I played came off, so it was just a matter of getting a team total and at the same time try and execute the shots the best way you can and today was one of those days when everything seems to be hitting the middle."
He added, "Generally I thought it was a team effort from everyone, because if you looked from number one to everyone who batted, everyone chipped in, with young Johnson playing well at the bottom so hopefully we can continue with the same form in our remaining matches.'
Asked to comment on the previous scores that were made on the pitch, namely Jamaica's 282, Windward Islands 268 and Guyana's 301, Sarwan said that while the runs scored were done heavily, once the bowlers bowl smart, they would be able to restrict teams.
"I don't think that if you bat first or second it would make much of a difference, but I think that if you put the bowlers under pressure as well and you are able to execute, then that is a major factor as well, taking into consideration the number of fielders who will be allowed out of the circle at one time.
I just think it is a matter of trying to execute your game plan and hopefully once you can do it on the day, then you would be able to score," posited Sarwan.
He said the Guyanese, who last claimed a regional List A title in 2005, had a total of 270 in mind, but were able to get past that and reached 301, even as he showered praise on the bowling of Paul Wintz, who snared 3 for 30 to help rock the Irish batting early in their innings.
Malta Supreme Guyana enjoyed a rest day yesterday, but will be at the National Cricket Centre in Couva from 0:900hrs today, while tomorrow they return to the outdoor facility at the Queen's Park Oval at the same time for another session, ahead of their game against Windward Islands on Tuesday.
We don't know if it is early days to call on Alvin Johnson's wishes, for only time will tell, but for now Sarwan has shown he is hungry for runs and intends to do well for Guyana.
(Calvin Roberts in Trinidad)