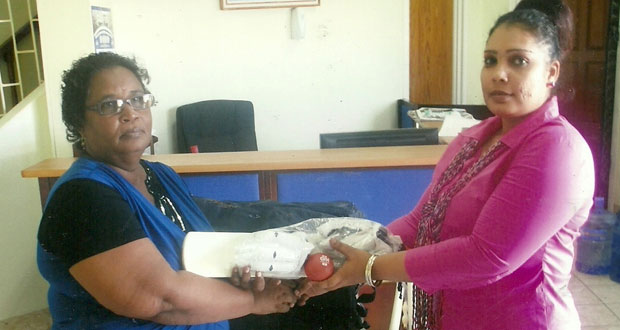 THE MASSIVE coaching programme that would be undertaken by the Special Events Committee of the Berbice Cricket Board for this year, on Friday last received a major boost when the Berbice River Bridge Company donated $100,000 worth of coaching kits.
The company late last year was approached by Secretary/CEO of the Rose Hall Town Youth and Sports Club and Special Events Committee Chairman, Hilbert Foster, for assistance in this regard and they readily agreed to do so.
Foster stated that the coaching kits would be shared out to 14 clubs across Berbice and would be used to coach young cricketers between the ages of 8 to 12 years old, adding that it would assist to identify promising talents for the future and thus continuing the rich tradition of Berbice producing outstanding players.
He expressed gratitude to the Management and Staff of the Berbice Bridge Company for their assistance and investment in Berbice Cricket, even as Administrative Assistant of the Company Bibi Alli in handing over the kits, said her Company was pleased to be associated with the BCB and pledged continued
co-operation in the future.