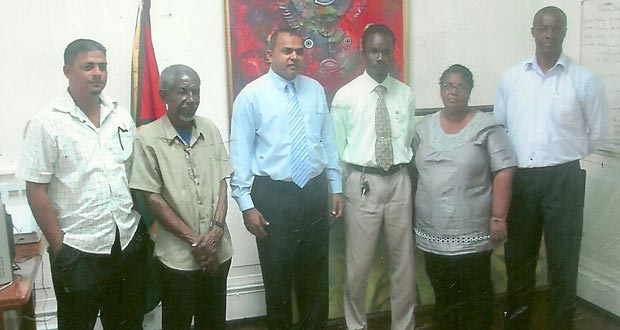 – unveils impressive programmes for Diamond Jubilee in 2014
THE KEITH Foster steward Berbice Cricket Board (BCB) has described the year 2013 as a highly successful one during which they were able to organise cricket at all levels and also complete over 60 off the field cricket programmes/activities in its ongoing effort to develop Berbice cricket.Public Relations Officer of the BCB and recently reappointed Chairman of its Special Events Committee Hilbert Foster stated that despite not been able to fulfill all of its stated goals due to the rainy season, the BCB was proud of its numerous achievements on and off the cricket field.
The Board in the early part of 2013 was able to complete the 2012 edition of the Tenelec Inc 50-Overs tournament which was won by Albion Cricket Club, Neal and Massy Intermediate won by Rose Hall Town Pepsi, Elizabeth Styles Under-19 Tournament which saw Albion emerging as winners and the Carib Beer 20/20 First Division Tournament which was also won by Albion.
At the second division level Young Warriors defeated Tucber Park for the 2013Bobcat of Guyana trophy that was played for teams in New Amsterdam/Canje area while D'Edward won the West Berbice version to take home the Norman Singh Memorial Trophy.
Courtland All Stars defeated Albion Community Centre to win their first cricket title and to take home the Raffik Construction Trophy for Second Division teams in the Lower Corentyne area. A two day match was also played in West Berbice for the Jumbo Jet Trophy.
At the Inter-zone level, Lower Corentyne defeated New Amsterdam/Canje to clinch the National Communication Network Under-15 Tournament while at the Under-17 level they also won the Republic Bank Inter-zone title defeating the same opponents in the finals.
The Diamond Fire and General Insurance Under-19 Inter-zone final is still to be completed due to the rainy season and would be contested shortly between Lower Corentyne and New Amsterdam/Canje.
Albion defeated Young Warriors Universal DVD to lift the 2013 Berbice River Bridge 50-Overs trophy while Rose Hall Town Gizmos and Gadgets took the Namilco/Bakewell T20 title over Albion Community Centre and Bermine got pass West Berbice to take home the Universal DVD T20 trophy.
The 2013 New Building Society 40-overs tournament which attracted over 120 teams would be completed shortly with the finals to be contested between Young Warriors and No. 71.
Albion and Rose Hall Town Farfan and Mendes would contest in the 2013 Tenelec Inc Under-15 tournament finals early next week, even as the 2013 Tenelec Inc Under-17 is currently at the quarterfinal stage and the 2013 Hand-in-Hand Second Division Tournament for teams in West Berbice has started but has been suspended until 2014 due to the weather.
At the Inter-county level, Berbice won the Senior four days tournament after crushing Demerara in less
than three days.
The following Berbice players played for Guyana during 2013 – Under-15: Adrian Sukhwa, Matthew Hardyal, Sylus Tyndall. Under-17 : – Brandon Prashad, Daniel Lewis, Shimron Hetmyer, Parmanand Ramdhan and Grisean Grant. Under-19: – Shawn Pereira, Shimron Hetmyer, Askay Homraj and Romario Shepherd.
At the Female level Phaffiana Millington, Steffi Rodney and S. Ghandie and Erica Lashley represent Guyana at the Under-19 level while Shemaine Campbelle, Erva Giddings, Subrina Munroe, Melanie Henry, Trishanie Cort, Phaffiana Millington and Tremayne Smartt for the senior female team.
Assad Fudadin, Devendra Bishoo, Narsingh Deonarine and Veerasammy Permaul played for the West
Indies "A" team while Permaul and Deonarine represented the West Indies at the ODI and Test levels.
Motie and Hetmyer also represented the West Indies at the Under-19 level. The ancient county trio Munroe, Campbelle and Smartt were also permanent members of the West Indies Female ODI and 20/20 teams.
Off the field, the BCB hosted numerous programmes during the period of January to June and that included the Berbice Educational Trust Fund, Annual Awards Ceremony, launch its Annual Review Magazine, Scotia Bank Annual Cricket Academy, Junior Elite Training Programme, Tribute to Heroes, Tribute to Retired Cricketers, Tribute to Coaches and Senior Elite Training Programme.
They also hosted Television programmes, Essay and Posters Competitions, Guyoil countywide coaching sessions,
unveiling of the Carib Beer Billboard of Berbice Test Players and several coaching clinics for batsmen, bowlers and wicket keepers.
The Board also made several donations of items to seventeen cricket teams and also made donations to numerous NGOs in Berbice while school bags and educational materials were also distributed to less fortunate cricketers who are attending school.
With the Special Events Committee been reformed in early December, the BCB also assisted the Berbice Cricket Umpires Association with Christmas hampers and donated toys to Children homes and visited the New Amsterdam Hospital Children Ward to share out toys.
The BCB, Hilbert Foster stated is grateful to all of its sponsors for their continued confidence in the Board and for investing on Berbice cricket, with special thanks being expressed to sponsors of tournaments and major programmes.
These included Office of the President, NCN, Tenelec Inc, Memorex (Amerally Sawmill), Ansa Mcal, Universal DVD, Hand-in-Hand Group of Companies, GT&T, Feroze Barakat, Diamond Fire & General Insurance, Republic Bank, New GPC Inc, Ricks & Sari Ltd, Raffik Construction, Bobcat of Guyana, Elizabeth Styles, Guyoil, Neal & Massy, Norman Singh Memorial, Jumbo Jet Auto Sales, New Building Society, Bissan's Trading, Berbice River Bridge, Namilco and Bakewell.
Meanwhile, the BCB would be celebrating its 75th Anniversary – Diamond Jubilee during this after been formed in 1939 to administer the game of cricket in Berbice.
A Special Committee headed by Hilbert Foster and Anil Beharry has been established to plan for the special occasion and already, they have started to plan for the yearlong celebration and among the plans disclosed so far
are a Inter-faith Prayer session and anti-drugs cricketers march.
A 40-page full coloured 75th Anniversary Magazine, television programmes, Essay and Quiz Competitions, launching of a Hall of Fame for Administrators, a Musical Evening with the Guyana Police Band, Special cricket match between Berbice and Georgetown, sharing out of 75 food hampers for senior citizens and a Cocktail Reception are also on the list of things to be accomplished.
Plans are also on stream for a cricket discussion featuring West Indies great Clive Lloyd, Basil Butcher
and another Test player and the printing of 75th Anniversary Souvenirs.
According to the BCB's Special Events Chairman, the Board intends to make the anniversary celebration an outstanding success especially during the month of September and the Board would like to encourage all former test players, national players and former administrators who reside overseas to plan their next vacation during that month, so that they can be part of the historic Diamond Jubilee.