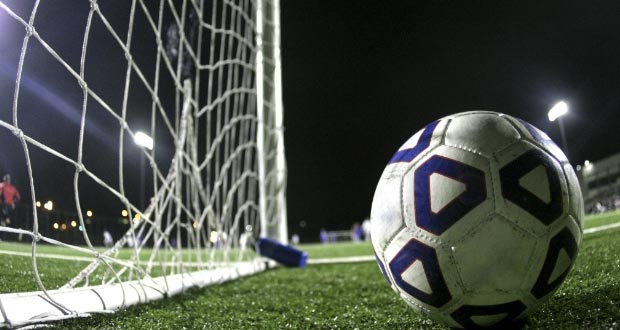 … Western Tigers come up against GDF in third place playoff
GIANT-KILLERS Santos will `dance' with Slingerz tonight in the final of the Georgetown Football Association (GFA)/Banks Beer Knockout Cup Tournament at the Guyana National Stadium from 20:30hrs while BK Western Tigers face Guyana Defence Force (GDF) in the third place playoff starting at 18:30hrs.Santos earned their berth in the final by beating GDF 2-1 in the first of two semifinals at the Georgetown Football Club on Sunday evening, while Slingerz scraped past BK Western Tigers by a slim 1-0 margin, a goal that Western Tigers scored on themselves (own goal).
Having defeated Houston Stars 10-1 in their first round fixture, then Buxton United by a 2-0 margin in a second round match and then recorded a 1-0 victory over 2012 champions Sunburst Camptown in a quarter-final game, Santos seem to have come to themselves after some poor showings in the Guyana Football Federation's Banks Premier League where they are currently at the bottom of the 16-team competition.
A win for the former Albouystown-based team will earn them bragging rights for the next 12 months and a $4M first-prize money.
They would, however, have to work as a team and not get complacent against Slingerz, a team that boast a number of national and regional players .
Slingerz for their part defeated Cougars by a 3-1 margin in the opening round of the competition then got past Monedderlust by a 3-0 margin in the second round of matches.
In the quarter-final round, they brushed aside Den Amstel by a 4-0 margin before narrowly edging Western Tigers 1-0 in the semi-final round.
Slingerz, who are based in the West Demerara area, comprise players from Linden, West Demerara and Georgetown and are known for their ability to take the attack to the opposition as well as to defend stoutly.
The second place team in this year's tournament will receive $2.5M while the third- and fourth-place teams will earn $1.5M and $1M respectively.
Western Tigers reached the third place play-off after defeating Kwakwani Strikers 6-1 in a first-round encounter then brushed aside Milerock 3-1 in the round of 16 and edged BV/Triumph 1-0 in the quarter-final round, before they lost to Slingerz in the semi-final.
GDF, on the other hand, thrashed Botofago 6-1 in the round of 32 then trounced Net Rockers by a 8-1 margin in the round of 16 and edged Alpha United 3-2 in the quarter-final round before bowing out to Santos in the semi-finals.
(By Michael DaSilva)