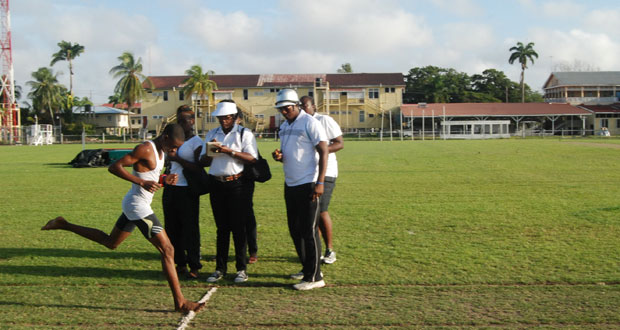 Nicholson, Harper shine as District 5 make positive start to Track and Field championships
…Beverley Ignacio wins for District 9
MARLON Nicholson and Dehcia Harper made a positive start for District 5 (West Coast Berbice) in the Track and Field championships as the Guyana Teachers Union (GTU)/Ministry of Education (MoE)/Digicel sponsored 53rd Annual Track and Field, Cycling and Swimming Championships got underway yesterday.District 5 who are known for producing strong middle and long distance athletes won the boys 10K road race through Nicholson, while Harper placed second in the girls' category yesterday to secure 18 points in total for their District.
Nicholson in winning the event, clocked 37 minutes 27 seconds, a far cry from the record 33 minutes 20 seconds recorded by Cleveland Forde for District 11 (North Georgetown) in 2002.
Harper on the other hand clocked 48 minutes 18 seconds in placing second to District 9's (Rupununi) Beverley Ignacio who returned a winning time of 43 minutes 30 seconds. District 6's Marissa Lawson finished third in 58 minutes 26 seconds.
The current record for the girls open event is 40 minutes 47 seconds which was set by Alika Morgan (East Georgetown) in 2006.
Danziel Leitch of District 6 (Corentyne) placed second in the boys open 10K road race in a time of 37 minutes 52 seconds, while District 9's Aran Francis placed third with a time of 37 minutes 59 seconds.
District 4's (East Coast Demerara) Ornesto Thomas was fourth in 38 minutes 31 seconds, while District 11's (North Georgetown) Cort McKenzie was fifth with a time of 38 minutes 43 seconds.
The track and field aspect for school and teachers athletes as well as the cycling championships will get underway today from 09:00hrs at the Providence National Stadium where District 11 will be going all out to retain the title they have won on 13 occasions.
District 11 will however have to be wary of another 13-time champion in District 10 (Upper Demerara/Kwakwani).
Fifty-five finals are slated to be completed today and those events are: long jump for girls' under-8, under-10 and under-12, as well as for teachers' under-21, under-30, 31-40, and 41 and over.
There will also be boys' shot-put under-12, under-14, under-16, under-18 and under-20.
The same shot-put events will go for the girls in those age groups.
There will also be shot-put events for male and female teachers' under-31, under-21, 31-40, and 41 years and over.
Triple jump events will be held for under-14, under-16, under-18, and under-20 boys and girls, and the cricket ball throw for boys and girls' under-8 and under-10.
No track events are carded for today, however, tomorrow, some of the country's top track athletes will do battle in a number of boys and girls' heats over varying distances.
With regards cycling, several finals are carded for today.
(By MichaelDaSilva)