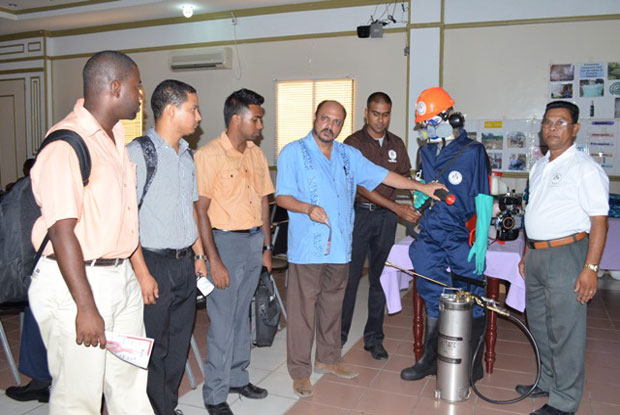 Minister of Health Dr Bheri Ramsaran has sounded a call for increased recognition of the contributions of health workers whom he described as "health warriors" in efforts against malaria.
Delivering the keynote address at a ceremony at the Regency Hotel to mark Malaria Day of the Americas on Wednesday, the minister said that their efforts, along with those of the ministry's strategic partners, should be lauded. It is as a result of their labour that the vector borne disease has been eliminated from the coast and pushed back in many interior locations, he noted.
Despite gains in combating malaria, it was noted that challenges remain due to the porous nature of Guyana's borders which are difficult to police. The Vector Control Services (VCS), which are now unified, must remain constant, he said.
"We must remain vigilant…while we have made great strides, we must continue to give our support to those in the fields."
Government's investment to reduce vector borne diseases, which also includes dengue fever, will continue to be high due to the fact that many more persons are accessing the interior for jobs and other opportunities. He cited the close to 500 medical doctors who were injected into the local health sector over the last two years, after Cuban training, and their placement in remote communities which were in need of medical personnel.
These medical professionals should be commended for their efforts, despite operating in occasionally resource scarce conditions, said Minister Ramsaran. He added that they, along with other staffers, play key roles in the Vector Control Programme, and are examples to youths who may be considering the medical field or health sector as a career choice. The Health Minister issued a challenge to the VCS to award accolades to those who have served in the sector for a number of years, before the end of the week. He also called for the event to be a week-long celebration of the gains made in reducing the disease.

37,000 INSECTICIDE TREATED NETS DISTRIBUTED
Giving an overview of the local anti-malaria effort, Director, VCS, Dr. Reyaud Rahaman said the Health Ministry has been partnering with other government ministries and agencies to intensify its campaign. To date, 37,000 long-lasting insecticide treated nets have been distributed in the malaria-endemic regions (1, 7, 8 and 9).
There have been significant investments in modernising the malaria information system, and the VCS Director explained that epidemiological data is much more updated now than it was 10 years ago, and this has made it easy to pinpoint the exact locations where there might be a spike in malaria cases and as such, these instances can be countered in a timely manner.
Dr. Rahaman disclosed that 60,000 people have had blood smears to test for malaria over the last two years in disease- prone communities. A three-pronged approach to tackle malaria, he added, is being employed. This comprises net distribution, testing via smears and spraying.
The Health Ministry will be moving towards increasing its advocacy efforts to educate persons about the disease. Some of the Health Ministry's local partners on board in the effort were lauded. These include the Guyana Forestry Commission (GFC), Guyana Gold and Diamond Miners Association (GGDMA), Guyana Defence Force (GDF), Women Miners' Association and the Ministries of Amerindian Affairs and Natural Resources and Environment.
The VCS has had a great partnership with the Pan-American Health Organisation/World Health Organisation (PAHO/WHO), through whose support a lot of training programmes have been facilitated. Reflecting on this, PAHO's Senior Advisor on Sustainable Development and Environment, Adrianus Vlugman, said that this year's theme, "Invest in the future, defeat Malaria", was an apt one. He said that Guyana must increase its investment to combat vector-borne diseases and urged all partners to assist. Vlugman also urged health workers to be agents of change.
Country Coordinating Mechanism (CCM) is a body which oversees the operations and finances of the VCS. Its representative, Desiree Edghill, commended the efforts of those who work in the sector, highlighting her experience during a field visit to Lethem and surrounding communities during which she saw firsthand the challenges faced and the efforts to surmount them.
Malaria Day in the Americas has been observed on November 6 in Guyana since 2003, a date which coincided with the day that the malaria parasite was first observed by Nobel Prize winner, Dr. Charles Laveran, in 1880 during a medical examination at a military hospital in Algeria.
It was launched in 2007 and seeks to raise awareness, build commitment and mobilise action to meet malaria reduction goals at the community, country and regional levels.
(GINA)