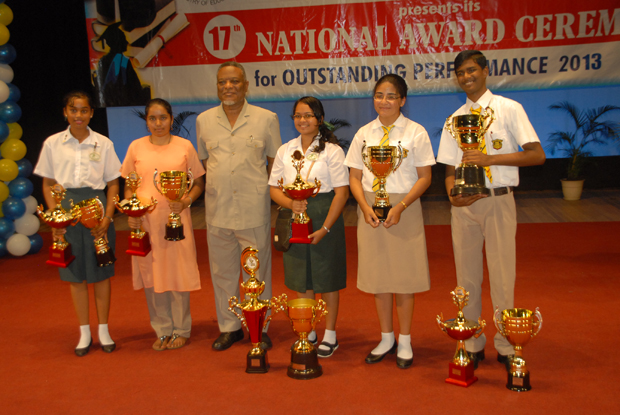 Written By Chriseana Ramrekha
THE Education Ministry, yesterday, at the National Cultural Center (NCC) held its 17th Annual National Award Ceremony where students were awarded for outstanding performance at the various levels of the education system.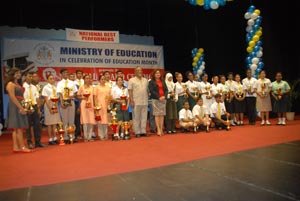 The awardees were best performers at the National Grade Six Assessment (NGSA), Caribbean Secondary Education Certificate Examination (CSEC), Caribbean Advanced Proficiency Examination (CAPE), Guyana Technical Education Examination (GTEE), Carnegie School of Home Economics (CSHE), and Cyril Potter College of Education (CPCE), as well as most improved schools.
TORCH BEARERS OF EXCELLENCE
Delivering the feature address at the award ceremony, Prime Minister Samuel Hinds declared that the Government of Guyana feels rewarded and vindicated by the success of these students. He said persons should learn from these best performances in order to improve performance across the board.
"You are our torch bearers of excellence and today we pay tribute to you…your country salutes your achievements," Prime Minister Hinds told the awardees.
According to him, it is necessary and important to celebrate those who excel and their successes should be made to challenge, inspire and encourage others to reach for similar higher standards.
"The progress of growth and development of our country requires each of us to be ever striving to do better, each of us becoming a more capable, productive and better person, it demands a commitment to excellence," he asserted.
Hinds indicated that the awardees epitomise that commitment and everyone is proud of them, including the educational institutions to which they belong, the education ministry, the government, their parents, relatives and friends.
He extended best wishes to the students that they will all go on to attain great glory in the service of their fellow citizens and their country. However, he cautioned that no fame or wealth that they achieve can compare with what their parents, guardians and teachers have given to them.
"You are where you are today because of their love and sacrifice," he declared.
Hinds acknowledged that many parents sacrifice their personal goals and ambitions and "do without" to ensure that their children receive opportunities that they never had.
APPRECIATION TO TEACHERS
The Prime Minister also urged the students to show appreciation to their teachers without whose efforts they would not have attained the heights which they have reached.
"Teachers are often unsung heroes and heroines in our society," he noted.
Hinds also noted that since the People's Progressive Party (PPP) has been in office, they have deliberately committed to making the investments that have brought about the successes that Guyana now enjoys.
This, he said, has been by no means an easy task and they have to make a little go a long way, adding that Guyana was not ever and is still far from being a rich country.
Hinds emphasised that the PPP favours and advocates growth from the widest base possible, and he has been gratified by seeing the improved opportunities and developments taking place all across Guyana.
EQUITABLE MANNER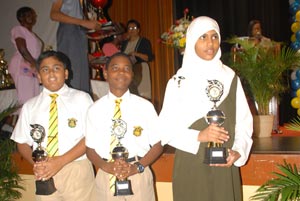 He indicated that the government remains steadfast in their belief that they have the duty to provide services to all Guyanese in an equitable manner, regardless of geographic location, ethnicity or religion.
"This belief manifests itself in the commitment and in the strong and deliberate policies and programmes that will give effect tangibly to that belief," he stated.
Hinds observed also that there are ingredients needed for the students to perform well or to the best of their ability such as child-friendly buildings, relevant materials such as textbooks, trained and committed teachers, committed parents, and disciplined students.
He said further that the government also seeks to ensure the equitable delivery of education across Guyana, even as he acknowledged that some regions have more trained teachers than others and they would like to see this replicated in the other regions and they are working to make this happen.
EQUITABLE DELIVERY
The prime minister declared that they are seeing the fruits of their equitable delivery in the education sector through the excellent performances of students not only in Georgetown, but also in some remote areas of the country.
Hinds pointed out that even as they celebrate the achievements of the students, they must also recognise areas in which they need to improve and the government trusts the entire nation would give wholehearted support to the education ministry as it rolls out initiatives to address this.
He maintained that the government would like to see all relevant stakeholders involved in the task of improving educational performances and the celebrations of excellent performances should hearten them to redouble their efforts so that the excellent performance becomes their standard performance in the not so distant future.
Hinds assured that the government will continue to place emphasis within the framework of a balanced budget to teacher training and remuneration, improved infrastructure, and access to educational resources.
With this approach, he said, they expect continued gains within the education sector and he is optimistic about education in Guyana.
Hinds also encouraged awardees to keep on striving for additional success and, in so doing, to continue to make their country, schools and families proud and take along other students with them.
MINISTER DOING AN EXCELLENT JOB
He also took the opportunity to thank Education Minister Priya Manickchand for the excellent work she has been doing at the ministry and also expressed congratulations to the students on behalf of President Donald Ramotar, the entire nation and on his own behalf.
Meanwhile, delivering remarks at the ceremony, Minister Manickchand said that while they celebrate the named top performers, they are really representations of the new Guyana that we have before us.
Addressing the awardees, Manickchand told them that they are at an extremely exciting part in Guyana's history where the country is poised for so many good things and they are the people who can take the country and fashion it the way they would like to see it.
Tomorrow's Guyana
"You get to decide what Guyana's tomorrow looks like," she declared.
According to her, they are far more fortunate that they are in a developing country and not a developed country where it has been shaped and defined for them, and they get almost a blank canvas to work with in Guyana.
She urged the students to think consciously about what they would like to see Guyana become and how she treats and caters to her people and work towards fashioning her in that way, including speaking up when necessary, and helping to influence those around them to make the right choices.
Manickchand indicated that while they expect many of them to leave the country to make themselves specialists in their respective fields, they also expect them to feel the need and the desire to come back to shape Guyana.
"Wherever you go you will be a contribution to the world but we would like to see you come back here and make Guyana into the place that you dream of," she maintained.
Manickchand took the opportunity to note that every time persons see the individual top performers, they should celebrate them as well as all persons who contributed to their success.
These persons, she said, include the ministry, parents and other relatives, teachers from all levels of their life in the education system up to this point, all of whom put their best foot forward to allow the students to be the best that they can be.
She expressed gratitude to all these persons who played their part and contributed to the success of these children, and also stated that they should reflect on the effort put into bringing students to this point.
Manickchand assured that even as they celebrate the achievements gained, they are deeply conscious that there is more work to be done such as bringing more students along, while ensuring that the teachers are the best that they can be.
Emphasising that they will not be complacent, Manickchand said that they will work even harder to have more to celebrate since they have already seen what they have the potential to achieve.
She then extended warmest congratulations to all of the awardees at the event as well as those students and teachers and parents who were not there but have worked very hard to see the children to that point of excellence.
The award ceremony also included dances, steel pan renditions, musical renditions and songs.
Most Improved School
The award for Most Improved Primary School went to Cumberland Primary School; Most Improved Junior Secondary School, Tutorial High School; and Most Improved Senior Secondary School, St Joseph High School.