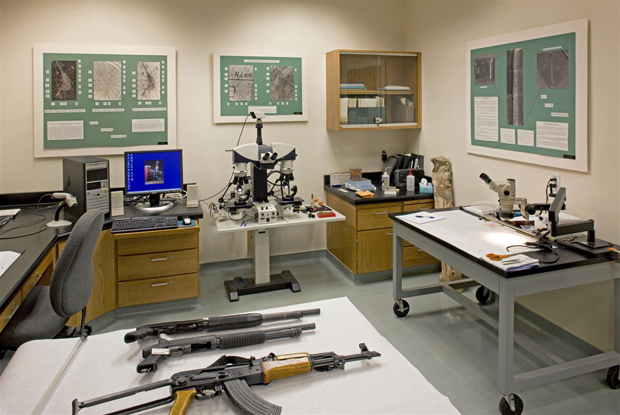 Written By Telesha Ramnarine
CABINET last Tuesday cleared a contract worth $49.79M for the supply and delivery of small apparatus for the forensic science laboratory, Secretary to the Cabinet, Dr Roger Luncheon informed yesterday. 
He was speaking at his usual post-Cabinet press briefing at the Office of the President, Shiv Chanderpaul Drive, Georgetown.
Last July, contractors had requested one more week to finish up work on the construction of the laboratory at Dennis Street, Sophia, but highly qualified personnel had already been selected to work inside the lab.
The state-of-the-art facility, which is situated within the precincts of the University of Guyana (UG) at Turkeyen, was expected to be completed by July. In the meantime, it was understood that 38 applicants were interviewed for 21 positions by a panel.
Home Affairs Minister, Clement Rohee had in July informed that lab equipment had arrived in the country and was being safely stored. According to him, it is now only a matter of time before the contractor can finish up the technical and physical work on the site.
This facility is expected to bring Guyana's forensic capability on par with those in the developed world, and will allow for a high level of confidentiality, credibility and integrity between law enforcement agencies and the public.
Last December, a US$1.688M contract was signed by the Ministry of Home Affairs and Western Scientific Company for the supply of scientific equipment for the facility, which, when completed, will be the best forensic lab in the Caribbean and one that could withstand scrutiny from any other facility in the world.
In September 2010, the sod was turned for the construction of the lab and the cost of the project is $700M ($500M for construction and $200M for equipment).
The construction of the laboratory was facilitated through an agreement signed between the Government of Guyana and the Inter-American Development Bank (IDB), as part of the institutional strengthening component of the Citizens Security Programme (CSP).
Over the years, the Guyana Police Force has been at a disadvantage in carrying out effective investigations as it relates to criminal matters, resulting in many unsolved cases. However, the completion of this laboratory will significantly improve local forensic capabilities, thereby enhancing the security sector.
Government being cognizant of the need for more advanced technology to enhance the crime-fighting capacity of the Guyana Police Force has embarked on several ground-breaking initiatives to ensure that the security sector is fully geared to deal with emerging challenges.