 MINISTER of Foreign Affairs and Foreign Trade of Barbados, Senator Maxine McClean,  who is on an official visit to Guyana, Saturday, said that the prospects for this country are very bright against the background of a lot of difficulties around the world.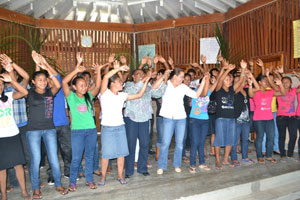 Senator McClean was at the time addressing students at the Bina Hill Institute in Region 9, while she was visiting the region where there is the Sante Fe farm managed by a Barbadian family.
The Ministers of Foreign Affairs of Guyana, Carolyn Rodrigues-Birkett and Barbados, McClean, toured the Santa Fe project, witnessing firsthand the blossoming of fruits, vegetables, ground provisions and more importantly rice.
The visit to the region also included a stop at the Bina Hill Institute, where Minister Rodrigues-Birkett, in words of encouragement to the students, reminded them of the time when she herself was obtaining an education there. She encouraged them to use their opportunities well.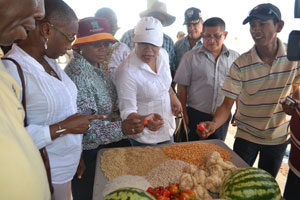 Senator McClean told the students that her visit to Guyana was productive and she urged them to learn how to contribute to the region and the future of Guyana.
She also suggested that the Bina Hill Institute was ideal for twinning with an institution in Barbados. McClean promised to work on this idea when she returns home.
The team of Guyana and Barbados officials also paid a visit to Bon Fim, Brazil, across the Takutu River bridge, before a walk-about in the Lethem commercial district.
Senator McClean and her Guyanese counterpart on Friday, during the second Guyana-Barbados joint commission meeting at the Guyana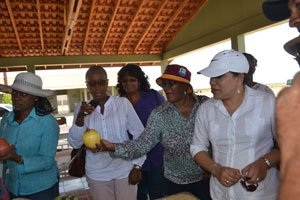 International Conference Centre (GICC), discussed matters which will see the two countries strengthening their relationship.
The media was briefed on the outcome of the joint commission, which addressed developments in agriculture/fisheries, education, tourism/hospitality, immigration and security, investments and civil aviation.
In terms of training in the agriculture sector, Minister Rodrigues-Birkett disclosed that Guyana will be offering five scholarships for Barbadian students to study at the Guyana School of Agriculture (GSA), while Barbados will be providing support in the area of pork production and rearing of black-belly sheep.
Guyanese hydromet officers would be attached to the Barbadian hydromet, since that country has more experience in this area.
The Barbadian official noted that given their years of involvement in the tourism sector, there are several areas where collaboration is possible. (GINA)