THE Radha Krishna Mandir of the Guyana Pandits Council, in collaboration with the National Blood Transfusion Service (NBTS), on Saturday hosted a blood drive at its premises at Camp and Quamina Streets in Georgetown.
Speaking to the Guyana Chronicle, Pandit Rudra Sharma noted that giving blood saves lives and that the blood bank needs blood, even every minute of the day.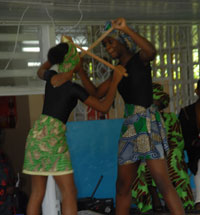 He added that the more units the blood bank has, the more it would be stable, and said that the target for the blood drive yesterday was 75 units of blood, with 32 units already been garnered when this reporter left the premises.
The National Blood Transfusion Service (NBTS) has achieved its 2013 target of garnering 10,000 units of blood, but is hoping that, by the end of this year, another 5000 units would be garnered.