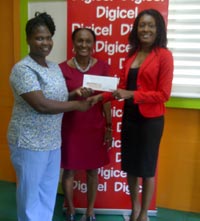 DIGICEL Guyana presented a $1M cheque to Ptolemy Reid Rehabilitation Centre on Thursday for the renovation and furnishing of the dining room.
The presentation took place at Ptolemy Reid Rehabilitation Centre, Carmichael Street, Georgetown, and Administrator Cynthia Massay and Nurse Candace Kewley accepted the cheque on behalf of the organisation from Digicel Public Relations Manager, Shonett Moore.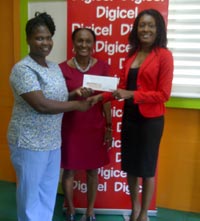 Massay told the media that representatives of Digicel Guyana visited the Ptolemy Reid Rehabilitation Centre a few weeks ago and recognised the need for students to use the dining room and contributed towards its renovation and furnishing.
Massay stated that children from day care to vocational training are housed in the building from Monday to Friday and more than 50 students visit the Centre daily for various services, including physiotherapy.
According to the Digicel Public Relations Manager, the company saw the need for the children who utilise the facility to be comfortable and decided to execute the project to renovate and furnish the dining room.
Meanwhile, Nurse Kewley said that in a month's time the dining room will be better equipped so that all the children would be able to enjoy meals there. She noted that the place will have proper windows for ventilation and that will be a plus for the Centre and the children.