THE official fifty-member delegation to represent Guyana at the Caribbean Festival of Arts (CARIFESTA), to be hosted in Suriname from August 16-25, 2013, will be announced shortly, according to Culture Minister Dr. Frank Anthony.
He told the media Friday that an audition was recently held, and a large number of persons in the various arts attended. He said the ministry is currently going through a process of selection based on individual merit.
Dr. Anthony noted that each Caribbean Community (Caricom) country is allowed a 50-member delegation, and those selected for the Guyana delegation would be so advised, in order that they can start preparing to represent Guyana well.
He added that the artistic director has also been visiting the venues where the various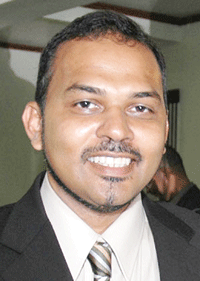 activities would be held, in order that plans can be worked out for participation in the activities to be held there.
Minister Anthony said work is still ongoing on the budget for the festival, but funds being allocated are coming from the $100M Sports and Arts Fund, and a fair idea has already been arrived at regarding Guyana's expected expenditure.
Dr. Anthony pointed out that when Guyana hosted the festival in 2008, both her delegation and her people enjoyed the festivities at no cost, since admission to the major events was absolutely free, and the Government of Guyana took care of the accommodation and internal transportation for the delegations.
He noted that this would, however, not be the case for this year's festival in Suriname, since Caricom has come up with a new model which would see the delegations from the various Caricom countries having to pay for their accommodation and internal travel.
Dr. Anthony informed that the Government of Guyana is still engaged with its Surinamese counterpart in this respect, so that apart from the official Guyanese delegation, other Guyanese would be able to participate in the festival once they have been accredited by the Guyana Government.
Dr Anthony said that while the Government would not be able to pay for more than 50 persons, if there are other persons who would like to go as part of the delegation, and they are willing to pay their own expenses, then the Government is willing to consider bringing them on board.
This 11th CARIFESTA festivity is being held under the theme "Culture for Development: Celebrating our diversity and promoting the central role of culture in economic, social and human development."
According to the Carifesta 11 website, this festival was initiated by the Heads of Government of CARICOM in 1972 to celebrate the arts, foster a vision of Caribbean unity, and to positively advance Caribbean culture regionally and internationally.
The Carifesta celebrations first took place in this post-independence format in Guyana in 1972; and this year, the activities include opening and closing ceremonies; extended Grand Cultural Market and Trade Fair; performing arts in theatre, dance, music and storytelling; youth focus; community festivals, super concerts, film festival; capacity building workshops, meetings and networking events.