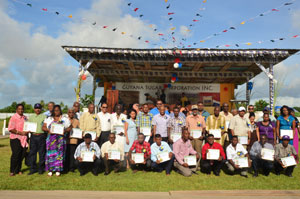 AGRICULTURE Minister Dr. Leslie Ramsammy yesterday issued a strong call for all, regardless of political affiliation or role to be played, to work in solidarity and unity towards reviving the sugar industry.
Addressing the Guyana Sugar Corporation's (GuySuCo's) Annual Honours Roll function at the Blairmont
Community Centre in Berbice, where some 26 workers from all of the sugar estates countrywide were honoured for outstanding performances in 2012, the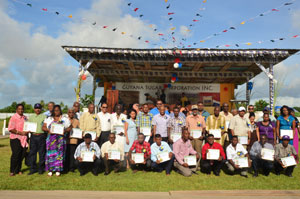 minister stressed: "GuySuCo is more than an industry; GuySuCo is the lifeblood of this country, and (is) too important to fail."
He pointed out that workers were being honoured and celebrated as the sugar industry faces some difficult times, and that there are many in the country who are seemingly happy at the difficulties the corporation faces.
"Our difficulties seem to provide to them an opportunity to think that we are at our death bed. So I came — if not to praise, I certainly did not come to bury — and I have a strong message to those in our country that might wish us ill, that the glory days of GuySuCo are not at an end," he asserted.

Ramsammy maintained that in spite of the difficulties the corporation is presently facing, it will rise again to even more glorious days than ever in the history of the sugar industry in Guyana.
He noted that while his words might seem optimistic at a time when the difficulties seem insurmountable, the present difficulties, dire as they are, are not as difficult as previous times in history.
He reminded that the local sugar industry was brought out of its "almost death bed" in the 1980s, and he pointed out that Guyana was once a poor, highly indebted country, but is today a middle income country, far better than at any other time in its history.
"We have proven to ourselves that difficulties are not insurmountable," he remarked.
The minister posited that there are often differences between workers and management in the industry; but he emphasised that this
should not be taken to mean that the industry is divided.
"Everyone of the GuySuCo family only wants success for the industry, and no one on the outside should believe that, when we have our differences, it is time to open more wounds and divide us," he said.
Noting that the corporation would not be able to achieve its annual production target of 238,000 tonnes, Ramsammy stressed that this does not mean that those involved in the industry should stop trying.
"For those on the outside, we want them to know that we will continue to work to overcome the difficulties. We will try our best this year; but we will begin to ensure that, in the not–so-distant future, GuySuCo will not only recover, but attain heights that we have never reached before. This industry will continue to work to be the foundation on which we build Guyana," he declared.
The minister said that while there are many who question the corporation's capacity to overcome the difficulties, he is confident that it can; but it is important that those involved have the will and desire to work closer together with greater understanding towards a common goal.
"With our present difficulties, if we hold our hands together and join hearts together, the future of GuySuCo is still guaranteed. I have absolute confidence that the future of Guyana will see a strong GuySuCo and a sugar industry still in a leadership role in the development of our country," he stated.
Dr Ramsammy noted that, even in difficult times, GuySuCo has continued to contribute, not only to the economic development of Guyana, but to the social development as well. He pointed out that the corporation is actively involved in providing scholarships and support to children for further education; building recreational facilities; and supporting the development of sports, provisional/vocational training and other community needs.
Meanwhile, GuySuCo Deputy Chief Executive Officer, Mr. Rajaindra Singh, said that while the corporation's performance in 2012 was not a desired one, yesterday's occasion should be used to reflect on those things that were done wrong, and those things that could have been done better.
He alluded to the industry's need to adapt to changing times, weather patterns, and technology; and noted that there are people with long years of experience, as well as young people within the industry.
"We need to mesh those two so that we could move forward, and we could effectively correct the situations that have caused us to decline in production," he said.
Singh said it is important for the board of directors,  management, workers, unions and all stakeholders to be committed towards working together with the same objective in mind.