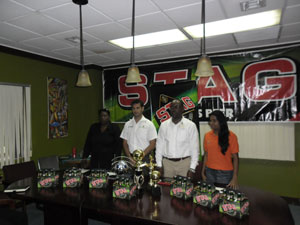 DESPITE the heavy showers that plagued the City of Georgetown and its environs yesterday, there was brightness in the boardroom of the Beterverwagting, East Coast Demerara-based Ansa McAl, when that business entity joined forces with the West Demerara Football Association (WDFA) to sponsor their Stag Beer League tournament.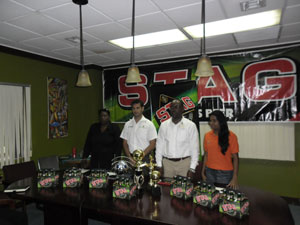 Present at the launching were Ansa McAl's Stag Beer Marketing Manager John Maikoo and Public Relations Officer Darshanie Yusuf, vice-president of the Guyana Football Federation Rawlston Adams and first vice-president of the WDFA, Christine Schmidt.
According to Yusuf, Ansa McAl having noticed a lag in football activities within the West Demerara area last year, decided to join forces with the WDFA and, having witnessed such a great turn out and participation from the teams and supporters last year, decided to join forces and sponsor the tournament for another year.
Yusuf said the strength of the tournament -which was won by Den Amstel, who defeated Uitvlugt 2-0 in last year's final – has been underlined following the number of teams who will be doing battle for supremacy this year.
"When we first sponsored the tournament last year, there were 9 teams competing and this year we have 12 teams battling for supremacy. This means we are showing progress and that makes us very happy to know that our sponsorship is making an impact and we want to continue along this path.
"These guys, who I am very, very happy to see, are showing their talent on the West Side and that the West Side can represent and compete with other teams in other parts of the country and with Stag Beer, they will move on and develop their careers in football" said Yusuf.
Speaking on behalf of the GFF, Adams expressed sincere gratitude to Ansa McAl for its commitment and dedication to football, not only in West Demerara, but Guyana as a whole, expounding on the increased sponsorship by Ansa McAl into this year's tournament.
While outlining briefly, the GFF's plans for the development of football in Guyana for which corporate bodies will be invited to buy into, Adams said the move by Ansa McAl has shown that the company is committed to football development and the GFF is very supportive of this.
In her brief remarks, Schmidt applauded Ansa McAl for coming on board with her body for another year, while Maikoo said another venue, namely the Wales Community Centre ground will be used for this year's tournament along with the Den Amstel ground.
"Stag has always been contributing to football on the West Side, as we have recently contributed uniforms to Seawall United Football Club, which was for us a way of showing our support to the development of football in the long run and we will continue to be there with football," said Maikoo.
The Brand Manager said the duration of the tournament which is expected to kick off tomorrow, weather permitting, following a march past of the teams, is being sponsored to the tune of G$2M, with the winners expected to cart off somewhere around $500 000, a remarkable increase in comparison to last year when the winners took home $300 000.
The three new teams are the recently formed Slingerz Football Club, who have been creating quite a stir on the West Side following their formation early this year, De Kinderen and Jetty Football Clubs.
They, along with Uitvlugt, Eagles, Stewartville, Beavers, Young Achievers, Seawall United, Wales and Bagotville, will be doing battle with the defending champions Den Amstel for this year's top prize when the action gets under way.
Following tomorrow's march past, they will be a competitive game between two teams representing the West Side and West Bank.