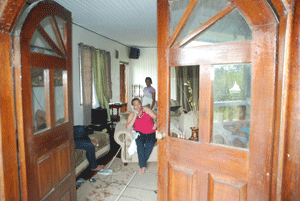 PRESIDENT Donald Ramotar has said that the problems being experienced in the sugar industry would largely be resolved through urgent reorganisation that will have to take place in the industry.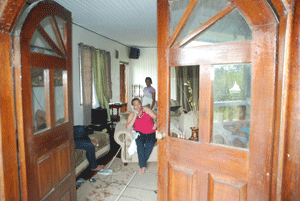 This disclosure came at a recent media briefing held at the Office of the President when His Excellency weighed in on concerns surrounding the industry at large.
With just about 48,000 tonnes of sugar being produced thus far, and with the industry projected to fall short of its 70,000-tonne target for this crop, President Ramotar, himself a former member of the GuySuCo Board of Directors, insisted that the time had come when it was "very, very clear that we have to reorganise sugar."
He spoke to the need for greater mechanisation of the industry in order to ensure its survival.
GuySuCo has embarked on a mechanisation process that had been stymied in large part by the orientation of the sugar fields.
Last Friday, the President said that, in the prevailing conditions, there is now need for greater dependency on mechanisation. He informed that the level of production being churned out is "worrying," and said he is also not very optimistic about recent predictions. "I have been told that the next crop should be a better one…, but I have been told that before."
The President said that significant attention would have to be placed on the levels of production within the industry.
His words come on the heels of those of the substantive minister with responsibility for agriculture, Dr Leslie Ramsammy, who, during the recent marathon debates in the House, had announced that by the end of July this year, Government would have finalised and published its Agriculture Strategy 2013/2020.
Dr Ramsammy said the sugar sector would be included in the strategy as a matter of importance, and he pleaded that as stakeholders celebrate the performance of rice, they must be equally concerned for its sister sector in GuySuCo.
"Sugar has had major problems the last few years," Dr Ramsammy said.
GuySuCo is currently finalising its updated Strategic Plan 2013 to 2016, which is also expected to place heavy emphasis on and lobby for a mechanisation and field conversion drive.
Just over $3.1B will be invested in the sugar industry this year.
Finance Minister Dr Ashni Singh, in making the $3.1B request for the industry this year, had also lamented what he called a sector "beset by issues associated with managerial capacity, unpredictable weather, and labour supply constraints, to name but a few." These, he said, had led to annual production levels being less than acceptable.
Dr Singh nevertheless believes that the external outlook for sugar remains positive, given Guyana's comparative advantage as a producer within CARICOM; the existence of a captive market, protected by the Common External Tariff; and the continued market access, with the recent extension of the EU Sugar Regime to 2020.
With much support over the years, GuySuCo has sought to address constraints such as irregular weather patterns and industrial actions, factors which have contributed to the sliding industry performance, Minister Singh explained.
"Over the last few years, initiatives in field and factory operations have been undertaken to counter the labour shortages and the reduced opportunity days arising from changing rainfall patterns. Mechanical harvesting has been accelerated, and there are ongoing investments in drainage works and land conversion to mechanically-friendly fields. Private cane farmers have been encouraged to take on a greater share in supply of canes to supplement Guysuco's production," Minister Singh had stated.