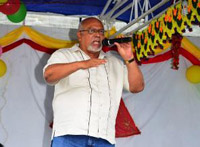 A meeting between Minister of Agriculture Dr. Leslie Ramsammy and residents of Berbice on important road works in the region is imminent, President Donald Ramotar told residents of the county on Sunday.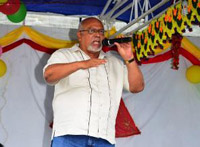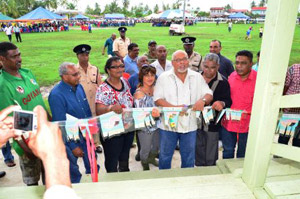 Speaking at the Chesney Sports Club ground where a new pavilion that was built by the Government of Guyana was commissioned, the Head of State assured residents that their complaints have not fallen on deaf ears, and that the meeting will help the government and the contractor to undertake works in accordance with the wishes of residents.
The assurance came even as he highlighted a challenge being faced with contractors  in short supply for the numerous projects being undertaken in the ongoing nation- building effort.
The Head of State was speaking at a reunion organised by Chesney residents which brought together dozens of persons originally from the village, but who are residing permanently overseas in countries such as Canada, the United Kingdom and the United States, along with hundreds of local villagers.
Earlier this month, residents living along the East Bank of Berbice had blocked the thoroughfare in protest as they mounted concerns over the condition of the road.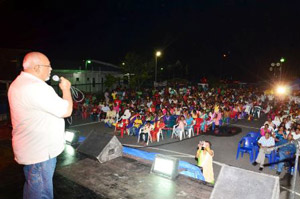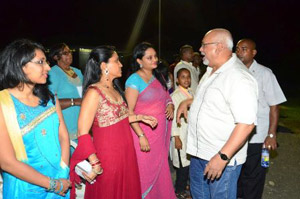 In the presentation of the 2013 national budget on March 25, Minister of Finance Dr. Ashni Singh had announced that an amount of $6.6B has been allocated for the construction, reconstruction, rehabilitation, upgrade and maintenance of rural, community and hinterland roads in all regions.
East Bank Berbice, he had announced, has been included on a list of roads where the designs for extension will be complete.
The national budget was passed minus $31B after the combined political opposition rejected funding to key infrastructural projects, and for entities such as the Amaila Falls Hydropower project , the specialty hospital, the Cheddi Jagan International Airport and the Ogle Airport Expansion projects, the Guyana Power and Light and the state media entities, the National Communications Network (NCN) and the Government Information Agency (GINA).
Implications of the cuts were explained in detail as President Ramotar addressed the gathering at Chesney Sports Club, and later at the pre-Arrival Day celebration at the Tain campus, Corentyne, Berbice, organised by the Guyana Hindu Dharmic Sabha.
He addressed the implications of the cutting of the electricity subsidy and the Amaila Falls Hydropower project, the specialty hospital and its impact on the delivery of modern health services, but vowed, as he did at last Friday's press conference, to do all in his power legally to reinstate them.
His determination is driven by the promise many of the aforementioned projects have on Guyana's economy, and the fact that growth in Guyana has been constant since 2006.(GINA)