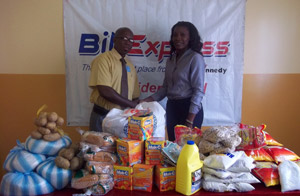 ALMOST $100,000 worth of dry goods and frozen food items were recently donated to the Calvary Assembly of God Church by the Grace Kennedy Remittance Services (Guy) Ltd (Bill Express Service) to be used in ensuring the nutritional needs of approximately 40 school-age children from the Houston, Mc Doom and Agricola, East Bank Demerara communities are properly addressed.
Presentation was made to the church at a simple ceremony held at the Grace Kennedy Remittance Service Head Office in Water Street, Georgetown, where Bill Express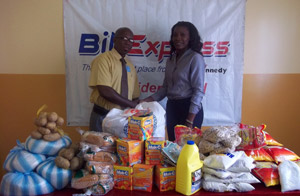 Marketing Manager Mrs. Natheeah Mendonca said the kind gesture of the company came after the church had requested assistance to provide hot meals for the children every Wednesday and Friday.
She pointed out that children, especially in targeted communities, need the support of a well balanced and nutritional diet if they are to excel in their educational pursuits; and she said she had confidence in the church to undertake such an initiative, even as she expressed hope that other corporate entities would follow the company's lead.
Receiving the items on behalf of the church, Coordinator Errol London disclosed that the feeding programme started last year, after the church recognized the need to spiritually and physically groom the youths in the communities; and the programme later expanded to include a component on education to strengthen the children's literacy and numeracy levels, wherein teachers from the congregation volunteer two days per week to teach the children in small groups, to enable learning and give each student individual attention.
London added that this initiative has been well received by the recipient communities; and he expressed heartfelt gratitude to Bill Express for contributing to the programme's continuation. He also disclosed that parents are especially pleased at this development, since many of them could not afford to send their children to extra lessons.
Over the next few months, Staff of Grace Kennedy Remittance Service will also volunteer their time to serve as mentors in the mentorship sessions of the programme.