GUYANA will be hosting Caribbean Week of Agriculture (CWA) come October this year, according to Senior Programme Coordinator of the Technical Centre for Agriculture and Rural Cooperation, Mr. Jose Fonseca.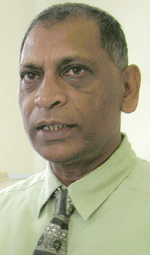 He made the announcement on Monday at the opening of a workshop, on the implementation and mainstreaming of Regional Fisheries Policies into Small-scale Fisheries Governance Arrangements in the Caribbean, at Grand Coastal Inn Hotel, Le Ressouvenir, East Coast Demerara.
Confirming that Guyana will host the October event, Minister of Agriculture, Dr. Leslie Ramsammy, who also spoke on the occasion, said: "We are honoured and we commit to make this Caribbean Week of Agriculture one of the biggest and one that really meets its obligation in this Region."
In an interview at the end of the formalities, the minister indicated that the CWA will, mostly, be during the week before World Food Day which is observed on October 16.
He advised that activities will not be Georgetown centred but will, rather, be spread across all 10 administrative regions.
"It will be throughout Guyana…I don't want it to be a Georgetown activity. I want to engage the farmers where their farms are, so that people get to visit places etc… So it will be in different areas of Guyana and I can assure people that all 10 regions will have some activity during Caribbean Week of Agriculture," Ramsammy stated.
He recalled that, last year, when there was a meeting of Ministers of Agriculture in Guyana, they were taken around the country to see the various forms of cultivation practised.
Ramsammy said the visitors were shown not only the traditional crops, such as rice and sugar, but also were exposed to some of the more modern agricultural activities such as  aquaculture, hydroponics and drip irrigation.
Different activities
The same way the different activities in the various regions will be highlighted during the CWA, he assured.
Ramsammy said:"We want to highlight onion, potato, turmeric and spice production, which creates room for Regions 1, 7 and 8…We want to highlight our integrated school farming programmes, such as at St. Ignatius which try to create an entrepreneurial activity in a school."
He emphasised that the CWA is not only a time to showcase products but also to market them and showcase policies. It is also a time to create networks of farming and other agricultural organisations.
"This is the time for people to be exposed and I don't believe that CARICOM countries have utilised the opportunity enough…it's great that we do have a Caribbean Week of agriculture but we have not invested enough money and energy into it," Ramsammy remarked.
He said, therefore, that Guyana should use the opportunity of hosting the CWA to create the paradigm shift and make it an important activity.
For that reason, Ramsammy said he is engaging international organisations in an effort to ensure that the CWA in Guyana is one of the biggest of its kind.
CWA is hosted annually every October in countries around the Caribbean and was held in Antigua last year.