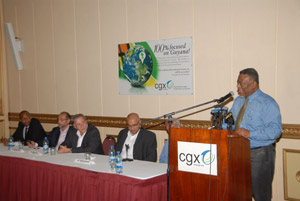 WITH its shares plummeting recently on the stock exchange, CGX Guyana Inc, yesterday announced that it has entered into an agreement with Pacific Rubiales to increase its shares in
the company to 48 per cent, bringing on board just about US$40M.

The announcement was made yesterday during a special media engagement by Executive Chairman of CGX Inc, Professor Suresh Narine, in the presence of Prime Minister Samuel Hinds, Canadian High Commissioner to Guyana, David Devine, Public Works Minister, Robeson Benn and former Foreign Affairs Minister, Rashleigh Jackson, among others.
Professsor Narine used the opportunity to introduce Pacific's Chief Executive Officer, Ronald Pantin, who flew in from Bogota, Colombia, for the press engagement.
With an 80 per cent success rate in the oil exploration and production, Professor Narine said that CGX is being rejuvenated and re-energised to stay its course in Guyana.
According to Professor Narine, with the injection of the US$40M in CGX, the first order of business would be to pay off outstanding debts.
As of November last year, CGX had received notice in relation to in excess of US$14M in debt, for which it could not pay, given that the company currently has insufficient funds.
CGX has been operational in Guyana for just about 15 years and Professor Narine indicated that as a result of the transaction with Pacific Rubiales, there will also have to be a shake-up in the Board of Directors of the company.
Professor Narine indicated that the initiative to bring on board Pacific Rubiales was deliberate and affirmed that it was not a case where the company, as a result of its need for immediate financing need, solicited other partners.
The two companies have indicated a desire to have the transaction completed by March 11, at which time Pacific Rubiales will own up to 48 per cent of CGX.
The news of the increase in share stock by Pacific Rubiales in CGX, according to Professor Narine, comes on the heels of a renewal of three of the company's exploration licences in Guyana, in Corentyne, Demerara and Berbice.
"What I am here to announce is a new CGX," said Professor Narine. He said that with the renewed licences and the cash in hand, the company is now poised to pursue its aggressive work plan.
He said that over the years, the company has invested almost US$300M in Guyana and intends to, over the next five years, invest between US$600M and $1B.
Remaining as the Executive Chairman of CGX, Dr Narine said that despite the increase in share stock by the Canadian company, the management and staffing for the company will maintain a heavy local content.
"I am here to let you know that CGX is here to stay…..CGX will bring oil," assured professor Narine.
He said that the specifics, as it relates to the revamped management, will be made over the coming weeks and months, but reminded that Guyanese will remain at the core of company's helm.
Pacific Rubiales is a Canada based company and producer of natural gas and crude oil, and operates a number of oil fields across the world, including in Colombia, Brazil, Peru and Guatemala.
Prime Minister Hinds, welcoming the company to Guyana, sought to remind that with Guyana's small population and GDP, it will have to undertake several such partnerships in order to fully develop the nation.