PEOPLE'S National Congress Reform (PNCR) General- Secretary Oscar Clarke is resting comfortably at the Georgetown Public Hospital (GPH) after surviving a brazen Tuesday night robbery at his home. He has been assured that his injuries, which include gunshot wounds to the leg and groin, are not life- threatening.
Clarke considers himself a lucky survivor, recalling the near death experience to Prime Minister Samuel Hinds, who is performing the duties of president, during the latter's visit yesterday afternoon to Clarke. Mr. Hinds expressed best wishes for a speedy recovery.
A high-spirited but still traumatised Clarke showed Mr. Hinds lacerations he suffered to his head after repeated gun-butting by one of two bandits that ambushed him, and the wounds he sustained from the gunshots after he attempted to retaliate.
He recalled trying to engage his assailants in conversation to ascertain the motive behind the attack, even as he was being struck in the head repeatedly by the robbers whom, he believes, were trying desperately to subdue him to unconsciousness before carrying out the robbery.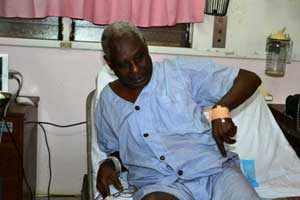 "I'm a fighter, they couldn't knock me out," Clarke told the Prime Minister who commended him for his bravery.
The bandits also restrained Clarke's wife, son and daughter-in-law who were the other occupants of the home at the time. Following the ordeal, Clarke said he was rushed to the St Joseph Mercy Hospital but had to be referred to the GPH after it was discovered that an x-ray machine at St Joseph was out of order.
"I think things went very well here (GPH)… I think they were well organised. When I got in here, all the requisite people were here," Clarke said.
Pre-emptive surgery services were also in waiting when Clarke arrived, but fortunately for the PNC General- Secretary, the x-ray results and examination ruled out the necessity since no critical organs were hit.
One of the bullets is still lodged in Clarke's leg, but he was told that there is no need to worry.
He told the Acting President that his fortune was secured in his belief in prayers and the fact that "his time didn't come.
But he was disturbed by the fact that one of his attackers is a youngster in his 20s.