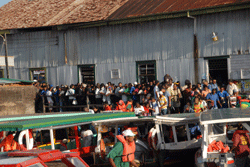 THE CUSTOMS Anti-Narcotics Unit (CANU) was yesterday tasked with destruction (burning) of more than 327 kilos of cocaine which were unearthed by several anti-narcotics agencies on Thursday at the John Fernandes Limited wharf in a consignment of soap powder destined for Niger, Africa.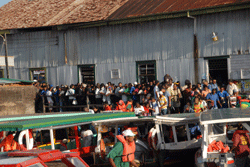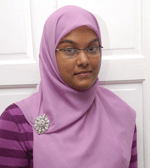 Shortly after 14:00 hrs yesterday, at CANU headquarters on Homestretch Avenue, Georgetown, the cocaine which was placed in six sealed containers was opened in the presence of representatives of several anti-narcotics agencies and the media, before being placed in three half-barrels and set alight.
The cocaine was also tested by media operatives to ensure its 100% purity.
The street value for this consignment of the illicit drug was pegged at approximately US$100M, and a CANU representative who spoke to the media said the seizure was the work of the Task Force which comes under the Ministry of Home Affairs (MoHA).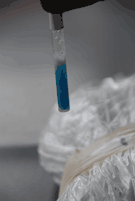 He said the suspect was placed before the court yesterday, pleaded guilty and was sentenced to four years' imprisonment, rendering the continued storage of the drug useless. Thus, the illicit substance was destroyed to make space for even more such seizures.
The cocaine was found stashed in a consignment of soap powder shortly after midday on Thursday, and was expected to leave Port Georgetown on December 4.
The seizure was made during an inspection exercise at the wharf by anti-narcotics agents, prompting the police to arrest the shipper.
Recently, a large quantity of cocaine was found in Malaysia in tins purporting to contain coconut milk. The drug, worth US$7.1M, was shipped from Guyana, and two East Coast Demerara residents have since been charged and placed before the court on Thursday.
Over the years, drugs, especially cocaine, have been shipped in lumber, pepper sauce, foods and weaves among other things, out of Guyana destined for foreign markets through our seaports and airports.